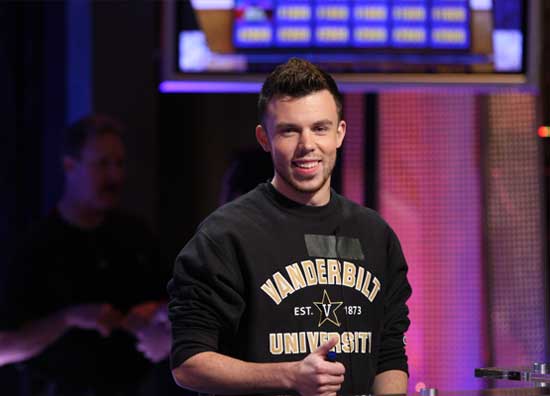 Vanderbilt senior Zack Terrill will collect $25,000 for finishing third in the Jeopardy! College Championship. The annual tournament wrapped up Feb. 14.
Terrill was in first place going into Final Jeopardy! on the second night of the two-night finals. The category was "Countries of the World." The clue: "The 14 countries that border China run alphabetically from this to Vietnam."
Terrill bet all of his $8,800 on the response Bhutan. But Afghanistan was the correct answer.
Monica Thieu, a sophomore at the University of North Texas, won the grand prize of $100,000 and a spot in the Jeopardy! Tournament of Champions. Sarah Bart, a senior at Goucher College, earned $50,000 for finishing second.
More than 12,000 undergraduate students across the country competed for just 15 slots in Jeopardy's 24th College Championship.
"The whole experience has been phenomenal," Terrill said in an interview leading up to the finals. "It's one of those things where I can definitely say that the other 15 people (who I competed against) are going to be my friends. If nothing else out of this whole experience, I made 15 great friends." Terrill traveled to Sony Pictures Studios in Culver City, Calif., for the taping last month.
"This is the only Jeopardy! where you get to represent something else besides yourself," he continued. "To play for Vanderbilt – it's a great place, a great school."
Terrill, 21, of Winter Springs, Fla., is a double major in chemistry and philosophy. He will graduate in the spring and has a job lined up to teach math in Nashville.
Since 1989, more than 150 colleges and universities have been represented in the tournament, with nearly $3 million in cash prizes awarded to students.