Media Inquiries
Latest Stories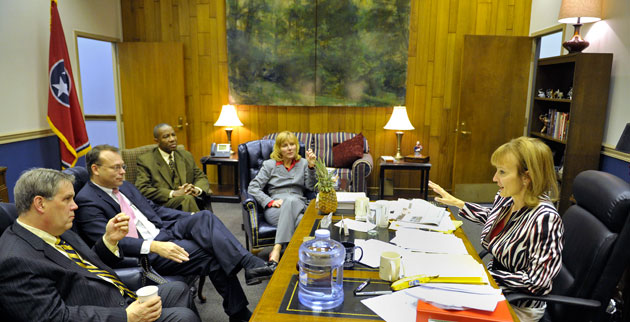 Vanderbilt representatives participated in Day on the Hill Feb. 14 at the Tennessee State Capitol. The annual event provides state legislators the opportunity to learn more about the university's wide-ranging impact on the state and to discuss issues of policy pertaining to higher education and health care with Vanderbilt officials.
Among other visits, C. Wright Pinson, deputy vice chancellor for health affairs; Jeff Balser, vice chancellor for health affairs; David Mills, assistant director for state policy and legislative affairs; and Beth Fortune, vice chancellor for public affairs, visited with Speaker of the House of Representatives Beth Harwell in her office.
Harwell expressed appreciation to Vanderbilt for supporting her efforts to enhance K-12 education and for preparing Tennessee students for post-secondary education and the changing workforce.