Sculpture from fine arts collection to be featured at Guggenheim
Feb. 8, 2012, 4:43 PM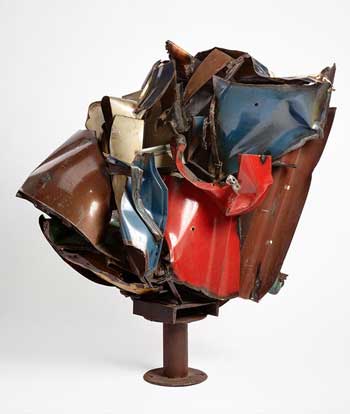 A sculpture from the Vanderbilt Fine Arts Gallery collection will be included in upcoming Guggenheim exhibitions in New York and Spain.
John Chamberlain's 1960 work "Maz" will be featured as part of John Chamberlain: Choices, a comprehensive examination of the late artist's work and his first U.S retrospective since 1986. The sculpture will travel to New York Feb. 9, with Vanderbilt Fine Arts Gallery director Joseph Mella following on Feb. 10 to oversee its installation.
John Chamberlain: Choices is scheduled for the Solomon R. Guggenheim Museum in New York from Feb. 24 to May 13, 2012, before traveling on to the Guggenheim Museum in Bilbao, Spain, where it will be on view from March through September 2013.
Born in Rochester, Indiana, Chamberlain (1927–2011) rose to prominence in the late 1950s with energetic, vibrant sculptures hewn from disused car parts, achieving a three-dimensional form of Abstract Expressionism that astounded critics and captured the imagination of fellow artists. Chamberlain frequently violated the formalist prohibition deriding the use of color in sculpture. He chose to adapt uncommon, recycled materials in his work, such as the slick, industrial palette of defunct auto bodies.
His balanced sculptures stressed the deep volumes and eccentric folds that he managed to achieve by squeezing or compressing the metal and then welding the disparate elements into highly developed, collage-like compositions.
Chamberlain died in December 2011.
Read more about the Guggenheim retrospective.
Contact: Joseph Mella, (615) 343-1704
joseph.mella@vanderbilt.edu