Media Inquiries
Latest Stories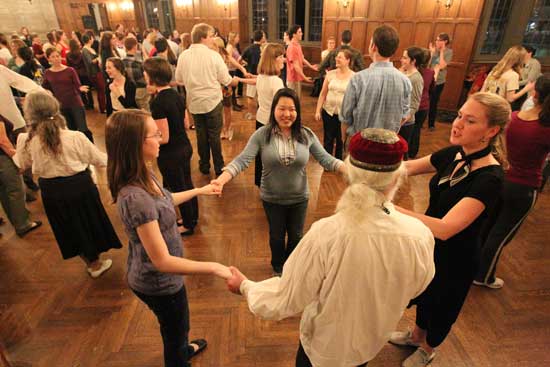 Novelist Jane Austen loved to dance, and so does the Vanderbilt community, judging by the large turnout for "An Evening of Jane Austen Dances" taught by Susan Kevra, senior lecturer in French and American Studies.
More than 100 people took part in learning the basics and some more complicated steps of English country dancing Feb. 2 in the historic Alumni Hall Ballroom.
"The idea was to allow students in my American Social History through Dance course and the Jane Austen seminar taught by Andrea Hearn to experience these dances with live music in the beautiful setting of Alumni Hall," Kevra said. "We chose a space not unlike dance halls found in England and New England meant for these longways dances. [rquote]It ended up being a great way to bring the community together, allowing students, faculty, staff and community members of all ages to participate in a historic dance form that is still relevant today, perhaps even more so than in Austen's day."[/rquote]
Live music on fiddle and piano was provided by Al and Emily Cantrell. Members of the Nashville Country Dancers participated in the workshop and demonstrated this graceful form of dance.
"Given how much time we spend in our virtual, closed-off worlds, there's something wonderful about a group of people connected to each other in basic and satisfying ways – holding hands and circling around the floor to the music of the fiddle, piano and clarinet," said Kevra, who has taught traditional dance for more than 20 years.
The event was co-sponsored by the English Department, American Studies and The Martha Rivers Ingram Commons at Vanderbilt.