Media Inquiries
Latest Stories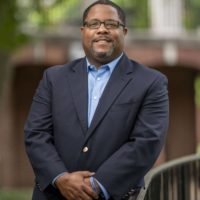 The American Association of Colleges for Teacher Education (AACTE) will present its 2012 Outstanding Book Award to H. Richard Milner IV for Start Where You Are, But Don't Stay There: Understanding Diversity, Opportunity Gaps, and Teaching in Today's Classrooms Feb. 19 at its 64th annual meeting in Chicago.
Milner is an associate professor of education and a founding director of the Learning, Diversity and Urban Studies graduate program in the Department of Teaching and Learning at Vanderbilt University's Peabody College.
"Rich Milner is an outstanding scholar whose latest work demands that we think differently about longstanding educational inequities," said Camilla P. Benbow, Patricia and Rodes Hart Dean of Education and Human Development at Peabody. "We at Vanderbilt are proud that AACTE has recognized his provocative and inspiring book with this well-deserved award."
Milner's latest book, published by Harvard Education Press in 2010, addresses a critical issue in educator preparation: the need to prepare pre-service and in-service teachers adequately for the racially diverse student populations in their classrooms.
"The text offers well-constructed, closely analyzed case studies that introduce us to diverse teacher candidates and illuminate their development as culturally responsive teachers," said Jennie Whitcomb, associate dean for teacher education at the University of Colorado at Boulder and chair of the AACTE Committee on Research and Dissemination. "The book addresses real-life issues and dilemmas and is relevant for both teachers and teacher educators, and the vivid case studies illustrate how teacher educators can challenge candidates to move forward in their respective journeys."
Rogers Hall, professor and chair of the Department of Teaching and Learning, said, "Milner's approach is to challenge mindsets as an educator working with pre-service teachers, and through his research, to show how effective teachers take practical and positive steps towards a caring, contextually sensitive practice of teaching that provides rich opportunities for learning. Milner's case studies and larger framework provide a much-needed set of resources for moving forward."
The AACTE Outstanding Book Award recognizes exemplary books that make a significant contribution to the knowledge base of teacher education or of teaching and learning with implications for teacher education.
The AACTE Committee on Research and Dissemination, which oversees the Outstanding Book Award, chose Milner's work for meeting a variety of selection criteria, including: originality of thought in critical analyses of particular assumptions or practices and outlining of proposals that reorient thinking in teacher education; demonstration of high-quality scholarship through synthesis and effective use of research and critical thinking in an area relevant to teacher education; and potential for significant impact on policy or practice in teacher education.