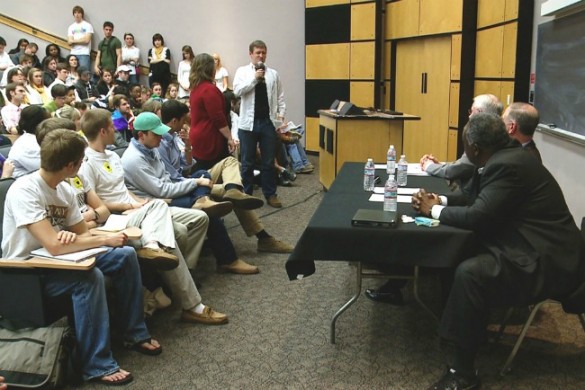 Three Vanderbilt administrators spoke and answered questions about the university's nondiscrimination policy and its application to registered student organizations for more than three hours, with a highly charged atmosphere gradually evolving into a thoughtful and heartfelt discussion of the issues.
The meeting in Furman Hall got underway at 6:15 p.m. Jan. 31.  Provost and Vice Chancellor for Academic Affairs Richard McCarty, the university's legal counsel and the dean of the divinity school made opening remarks and then took questions. Many students wore white shirts to signify their belief that religious organizations should have more latitude in setting standards for leadership in their organizations, while others wore capes decorated with rainbows to show their belief that the nondiscrimination policy was vital to the university's diversity and to its gay community.
"We want to work with you," McCarty said to leaders of campus groups concerned that the nondiscrimination policy might force them to compromise their beliefs. "We want to help. We want to keep you on this campus."
Several students said they had received mixed messages about the content of the nondiscrimination policy. David Williams, vice chancellor for university affairs, general counsel and secretary of the university, apologized for any confusion.  He and the provost explained that the meeting had been scheduled as part of a broader effort to disseminate the policy and make sure it was widely understood.
"We have not changed our policy," he said. "We shouldn't be about closed doors… If you are a student at Vanderbilt, you have a right to join any organization."
The forum was moderated by James Hudnut-Beumler, dean of the divinity school.
Some religious groups have claimed that their organizations need to have a faith requirement for their leaders so that the mission of their organizations is not compromised.
"You can't lead me in my faith if you don't share my faith," one student said.
Williams explained that Vanderbilt's nondiscrimination policy is an "all-comers" policy, under which any Vanderbilt student is free to join and seek a leadership position in any Vanderbilt registered student group, regardless of such factors as the student's race, gender, sexual orientation, or religious beliefs. However, the individual members of every group have the right to elect the leaders of their choice. An all-comers policy, adopted by a public law school in California, was recently upheld by the U.S. Supreme Court against a First Amendment challenge by the Christian Legal Society.
McCarty stressed that Vanderbilt is not forcing any group to select any particular person as a leader.  "I'm saying be open to it, be open to inspired leadership that might come along from somewhere unexpected," McCarty said. "I'm not saying you have to (elect anybody), just be open to the idea."
Some students worried that those with beliefs antithetical to those of a group could join and become leaders in order to engage in a "hostile takeover," though no one cited any actual examples.  Other students said that religious groups could lose their integrity if anyone were eligible for leadership.
"I cannot separate my decision-making from my faith," one student said. "I fall under an authority that is greater than Vanderbilt, and that is the Roman Catholic Church."
As a counterpoint, a student described his experience becoming active in a church as a non-believer and eventually converting. Another student told of his experience being an officer in an Asian student group even though he isn't Asian.
"I have grown a lot by being a member of this organization," the student said. "I have been able to take this position and grow as a person."
About midway through the forum, some of the attendees walked out as part of an apparent protest. Those who remained continued an intense, respectful discussion with the provost and vice-chancellor. A number of students thanked the administration for scheduling the meeting and the provost and vice chancellor for their patience.  Only after the last question was asked and answered was the meeting called to a close by Dean Hudnut-Beumler.
Discussions will continue as long as they are fruitful, McCarty said, and further thought would be given to some of the hard questions posed.  He added, "We won't backtrack on our bedrock policy of nondiscrimination. If we weakened the nondiscrimination policy, people who are your classmates would suffer."