Prescription for Adventure
by
Kara Furlong
Feb. 1, 2012, 8:07 AM
The Vanderbilt Travel Clinic helps international travelers stay healthy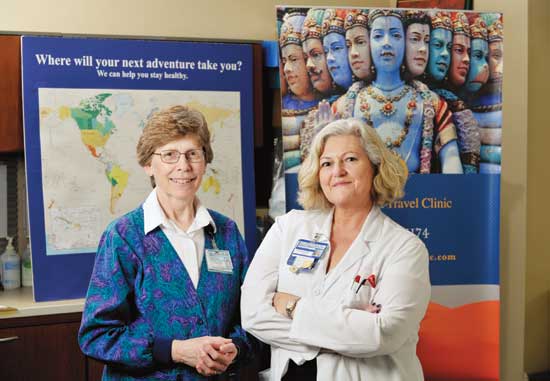 As a young married couple, Sheryl Rogers' parents served in the Peace Corps in Malawi. Rogers' older brother and sister were born in the East African nation, and all three siblings grew up with the stories and mementos of that earlier life. So for the milestone birthday their mother is celebrating in May, they are planning a trip back to the place that plays such an important role in family history.
Rogers, director of Books from Birth of Middle Tennessee, a childhood literacy initiative headquartered at the Monroe Carell Jr. Children's Hospital at Vanderbilt, has traveled extensively in Europe, Canada and Mexico, but the upcoming Malawi trip is the first time she's had to seek immunization for typhoid, malaria and other illnesses endemic to that part of the world. Her regular physician suggested she pay a visit to the Vanderbilt Travel Clinic.
Located on the second floor of The Vanderbilt Clinic, the travel clinic has provided advice, vaccines and prescriptions to international travelers for decades in partnership with Vanderbilt's Division of Infectious Diseases. But over the last 10 years or so, travel medicine has emerged as a stand-alone specialty, said Paula Monte, a certified physician assistant at the clinic.
"We are seeing more and more people seek our services as they travel to underdeveloped countries for vacation, adventure, mission work, international adoption, business and more," said Monte, who along with registered nurse Judy Norman dispenses advice and medications to keep travelers healthy when they're abroad. The clinic serves adult and pediatric patients from across Middle Tennessee and surrounding states. A physician's referral is not required to visit the clinic, but appointments are strongly recommended.
Monte sees patients who are planning trips to all corners of the globe. To stay informed on the various diseases they may encounter, she relies on an extensive network of travel medicine providers and infectious disease experts who give real-time information from the ground. This includes monitoring websites and receiving email updates 24/7, as well as subscribing to a listserv maintained by the International Society of Travel Medicine, of which the Vanderbilt Travel Clinic is a member.
Getting the proper vaccines and medications before a trip is among the most important things one can do to prepare – but it's not unusual for travelers to underestimate what they need. "I do see many people who, after a consultation, will say they had no idea that they needed anything to travel to various parts of the world," said Monte, who likes to sit down with patients and go over their travel itineraries step by step.
"I need to know specifically where they're going – not just the country, but the location within the country," she said. "I need to know how many days they will be at each location, what types of accommodations they will have and if they will be traveling by ground or by air." Monte explained that travel to a rural or remote location often requires a different level of protection than travel to an urban area. Different countries also have specific entry requirements.
"Although the Vanderbilt Travel Clinic provides essential vaccinations to the international traveler, our best asset is the invaluable information we provide," said Julie Reznicek, the clinic's medical director and assistant professor of medicine. "Our patients are often unaware of potential infections that can be acquired while traveling and the simple measures they can take to keep themselves safe."
For her trip to Malawi, Rogers said she received vaccinations for typhoid and hepatitis A and B, and medications to ward off traveler's diarrhea and malaria. Rogers also had questions about yellow fever, a virus transmitted by mosquitoes that can result in hemorrhagic fever and even death. Though Malawi is not at risk for yellow fever, the landlocked nation is surrounded by countries that are.
"The nurse took the time to get out a globe and show me where I was going and to talk about the surrounding countries and what I would need to do if I traveled there," Rogers said.
Monte recommends that travelers visit the clinic four weeks in advance of a trip. The human body needs time to respond to vaccines in order for them to be effective, she said, and some vaccines must be given in a series over several weeks. Vaccines may not be covered by insurance.
"The more time to prepare, the better off we all are," she said. "That way if a patient has questions or if they're uncertain if they want a vaccine, they have time to think about it and speak with their primary care provider, travel agent or the people they are visiting on the ground."
The responsibility to stay healthy during a trip and return home healthy to family and friends falls squarely on the traveler, Monte said. "There are virtually no requirements for re-entering the United States. The U.S. government assumes that American travelers will immunize themselves before going abroad."
The most common ailments returning travelers have are gastrointestinal symptoms, which are usually not serious. "But anyone who returns from a trip sick – especially with a fever – needs to be seen by a health care provider right away," Monte said. "If a patient is not satisfied with their primary care provider's approach, or if their PCP is not comfortable treating them, we can refer them to Infectious Diseases."
For someone who didn't enjoy geography in grade school, Monte finds her current job fascinating. "Travel medicine is so interesting because it's constantly changing," she said. "It's exciting to learn what's going on in different parts of the world."