Media Inquiries
Latest Stories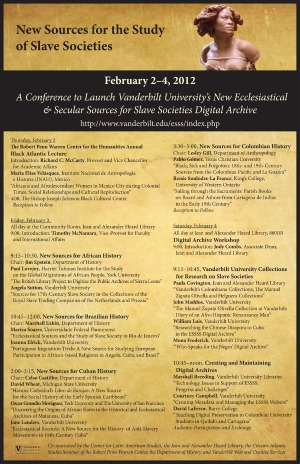 Renowned experts on preservation of African and Afro-descended slave records will gather at Vanderbilt Feb. 2-4 to launch the university's new Ecclesiastical and Secular Sources for Slave Societies digital archive and website.
The three-day conference, "New Sources for the Study of Slave Societies," will open Feb. 2 with María Elisa Velásquez delivering the Robert Penn Warren Center for the Humanities' 2012 Black Atlantic Lecture.
Velásquez, professor of history at Universidad Iberoamericana, Mexico, will speak on "Africans and Afrodescendant Women in Mexico City during Colonial Times: Social Relationships and Cultural Reproduction." Video of her talk, which will be at 4 p.m. at the Bishop Joseph Johnson Black Cultural Center, will be posted later at news.vanderbilt.edu.
The conference moves to the Community Room of Vanderbilt's Central Library on Feb. 3 with a variety of experts presenting their research on preserving slave society records in Africa, Cuba, Colombia and Brazil. Among those speaking will be Jane Landers, the Gertrude Conaway Vanderbilt Professor of History and director of the Ecclesiastical and Secular Sources for Slave Societies project. She is also acting director of Vanderbilt's Center for Latin American Studies.
In 2003, the National Endowment for the Humanities awarded Landers, Mariza de Carvalho Soares of the Universidade Federal Fluminense (Rio de Janeiro, Brazil), and Paul E. Lovejoy, of York University (Toronto, Canada) a two-year collaborative research grant that supported their work in Brazil and Cuba. By 2005 more than 120,000 images of at-risk ecclesiastical sources for Africans and persons of African descent in Brazil and Cuba had been preserved and stored at Vanderbilt.
Landers noted that baptismal records became the longest and most consistent information available for the history of Africans in the Americas as the Catholic Church required the baptism of African slaves across the Catholic Americas during the 15th century. "[rquote]Most of these records, held in religious archives or local churches, have been at risk due to climate, bug infestation and other damage[/rquote]," Landers said. "Too often, parish priests or even lay persons are the records' only guardians, and these well-meaning individuals might not be aware of the material's historic significance. Also important for the history of slave societies are the secular records found in the city and provincial archives of Cuba, Brazil and Colombia."
Since 2005 Landers, Soares and Lovejoy have continued to direct teams of graduate students in additional preservation work in Cuba and Brazil. Also, some of these students now direct their own projects. Thanks to grants from the British Library Endangered Archives Program, Oscar Grandio Moráguez directs a project to digitize municipal and provincial archives in Cuba, while Pablo Gómez, now a professor of history at Texas Christian University, directs a project to digitize notarial records in Quibó, Colombia.  Gómez and Landers also co-direct a second British Library project in Rio de la Hacha, Colombia.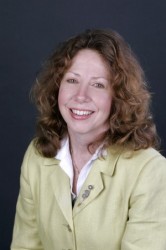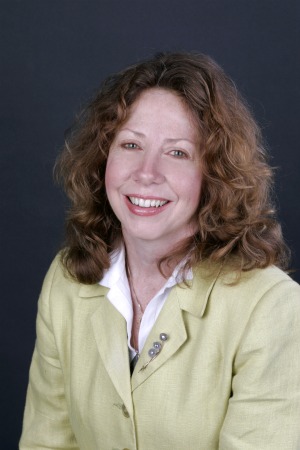 Lovejoy, who directs the Harriet Tubman Institute for Research on the Global Migrations of African Peoples at York University, Soares, Gómez and Grandío are among the conference presenters on Feb. 3.
The Vanderbilt Libraries have provided significant assistance to the Ecclesiastical and Secular Sources for Slave Societies digital archive and website. Marshall Breeding, director for innovative technologies and research, created the project's Web-based interface and metadata and incorporates additional materials as they are digitized. He is among those who will lead Saturday's workshop on the digital archive and website. Also presenting will be Paula Covington, Latin American and Iberian bibliographer and senior lecturer in Latin American Studies, who will discuss "Vanderbilt's Colombiana Collections: The Manuel Zapata Olivella and Helguera Collections." In addition, William Luis, the Gertrude Conaway Vanderbilt Professor of Spanish, will discuss Chinese communities in Cuba that can be researched in this archive. Mona Frederick, executive director of the Robert Penn Warren Center for the Humanities will present the center's Who Speaks for the Negro? digital archive.
The conference is free and open to the public. For more information, contact the Center for Latin American Studies at 615-322-2527 or email clas@vanderbilt.edu.