Media Inquiries
Latest Stories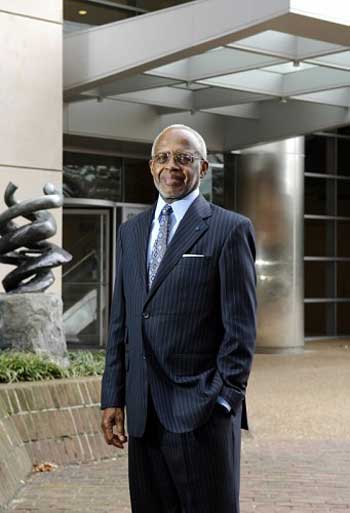 George C. Hill has been named a 2012 inductee to the Rutgers University Hall of Distinguished Alumni.
Hill is the Levi Watkins Jr. Professor and professor of pathology, microbiology and immunology at Vanderbilt. He also serves as assistant vice chancellor for multicultural affairs and special assistant to the provost and vice chancellor for health affairs.
An expert in the microbiology of infectious diseases, Hill is a professor at Vanderbilt's School of Medicine and the immediate past president of the National Foundation for Infectious Diseases. He has conducted groundbreaking research to advance biomedical science worldwide, resulting in a broader understanding of the tsetse fly-transmitted "African sleeping sickness."
Originally from Camden, N.J., Hill received a B.S. degree from Rutgers' Camden College of Arts and Sciences in 1961. Along with his twin brother Washington C. Hill (a 1961 CCAS graduate, medical doctor and 2006 inductee to the Rutgers Hall of Distinguished Alumni), George Hill pledged a leadership gift that will allow Rutgers to open the Hill Family Center for College Access.
Hill received an M.S. degree from Howard University and a Ph.D. from New York University. He was an NIH Postdoctoral Special Research Fellow at the University of Cambridge and a Fulbright Scholar at the University of Nairobi.
Prior to being named assistant vice chancellor for multicultural affairs at Vanderbilt, Hill was associate dean for diversity in medical education from 2002-11. An extension of these roles, Hill works throughout the country to advance opportunities for underrepresented minority students in medicine and the biomedical sciences. In 1999, he was recognized as a "Giant in Science" by the Quality Education for Minorities Network. He also chaired the National Science Foundation Committee for Equal Opportunity in Science and Engineering.
Before joining Vanderbilt, Hill was a microbiology professor and the vice president for sponsored research at Meharry Medical College in Nashville.
Hill and the four other 2012 Rutgers Hall of Distinguished Alumni inductees will be honored at a ceremony on Saturday, May 5, in New Brunswick, N.J.
Contact: Alyse Mattioli
amattioli@winants.rutgers.edu