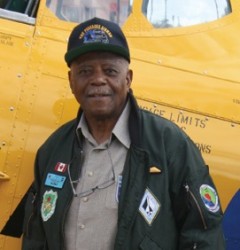 The African American pilots known as the Tuskegee Airmen are celebrated pioneers whose stories are currently being dramatized in George Lucas' film Red Tails. One of them, Eugene Richardson, will share his story Monday, Jan. 30, at Vanderbilt University.
Richardson's talk begins at 7 p.m. in Vanderbilt's Sarratt Cinema. The event is free and open to the public. Video of Richardson's talk will be available after the event at news.vanderbilt.edu.
Before 1940, African Americans were barred from flying for the U.S. military, but pressure exerted by civil rights leaders and the black press resulted in the Army choosing Tuskegee Institute, a black college founded in Alabama in 1881 by Booker T. Washington, to train African American pilots.
Tuskegee became the center for training African Americans for air operations and was the only source of black military pilots in World War II. Today, the airfield where they once trained is known as the Tuskegee Airmen National Historic Site.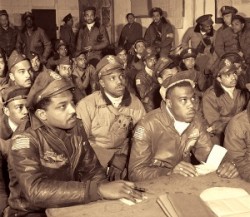 Richardson's interest in flight began in 1930, when as a young boy his father and a friend took him along to see the Colored Air Circus, a group of black aviators performing an air show in Mansfield, Ohio. At 17 he decided to join the Army Air Corps in order to become a pilot. A few months later – at the age of 18 – he completed basic training and went on to Tuskegee Army Airfield for 40 weeks of pilot training. He later received gunnery training at Eglin Air Force Base in Florida and went on to Walterboro, S.C., for combat training.
While he and 37 others finished their flight training in March 1945, the war ended in the European theater just two months later so they never saw any combat. Of the 38 pilots in his class, 23, including Richardson, graduated as fighter pilots and 15 as B-25 bomber pilots.
Richardson was discharged in 1946 and returned to Philadelphia, where he finished his high school degree and did his undergraduate work at Temple University. He also earned master's and doctor of education degrees from Penn State. Pursuing a career in education rather than aviation because of the lack of career opportunities for black pilots, he became a high school principal in Philadelphia's school system. He is now retired and tours the United States and Canada speaking about and teaching the story of the Tuskegee Airmen.
His experiences have inspired a generation of African Americans, including his son, Eugene Richardson III, who became a fighter pilot and an airline executive.