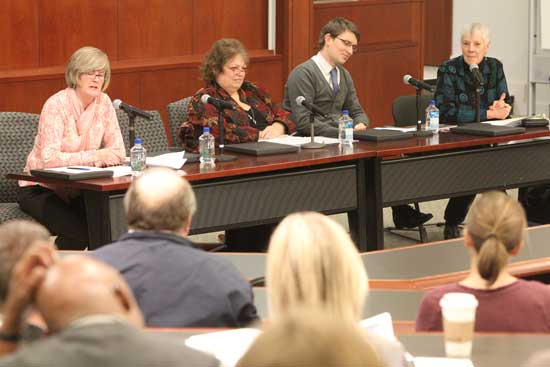 More than 100 people attended a Jan. 17 panel discussion at Vanderbilt Law School designed to inform and engage the community on the scarcity of affordable local housing.
"Meeting Nashville's Needs: Establishing a Housing Trust Fund" was co-sponsored by the Hyatt Fund, the Cal Turner Program for Moral Leadership and Law Students for Social Justice. Mary Brooks, project director of the Center for Community Change's Housing Trust Fund Project, shared information on the experiences of other cities that have established housing trust funds, which, by definition, receive ongoing dedicated sources of public funding to support affordable housing.
The other panelists were Janet Rosenberg, paralegal with Legal Aid Society of Middle Tennessee who works with those in subsidized housing, and Mick Nelson, a Tennessee Housing Development Agency policy analyst. Clare Smrekar, associate professor of public policy and education and faculty adviser to Cal Turner Program fellows researching the impact of housing trust funds, moderated the lively discussion.