A new Tennessee law that makes it a crime to share passwords for subscriptions services like Netflix, Spotify and Hulu will be discussed by industry experts at a forum Feb. 1 at Vanderbilt Law School.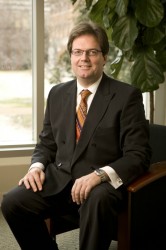 Representatives from the Recording Industry Association of America, Barnes & Noble and law firm Neal and Harwell PLC will be moderated at the event by Daniel Gervais, FedEx Research Professor of Law and co-director of the Vanderbilt Intellectual Property Program at Vanderbilt Law School.
The 4:30 to 5:30 p.m. panel discussion, sponsored by the Hyatt Student Activities Fund, will be held at Flynn Auditorium at Vanderbilt Law School and is free and open to the public.
The panelists will discuss how the law affects online business models and the broader issue of copyright piracy.
The panelists are: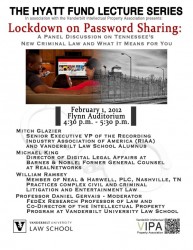 Mitch Glazier, senior executive vice president of the RIAA
Michael King, director of digital legal affairs at Barnes & Noble
William Ramsey, an attorney at Neal & Harwell PLC who practices entertainment law
A reception in the North Lobby of Vanderbilt Law School will follow the event.
The Vanderbilt Intellectual Property Association provides a forum for students interested in learning about or working in the field of intellectual property law. The organization seeks to create educational events for students, foster debate on current issues, develop employment networks with alumni and local practitioners, and take advantage of practical opportunities available in Nashville.