Media Inquiries
Latest Stories
As the 10th anniversary of the opening of the Guantanamo Bay detention camp passes this month, a Vanderbilt law professor and former U.S. adviser on detainee cases says it's time to update international law applicable to those detained there.
Vijay Padmanabhan, assistant professor of law at Vanderbilt Law School, advised U.S. Department of State officials on individual detainee cases and helped negotiate deals with foreign nations to safely transfer detainees from the detention center. As an attorney-adviser for political and military affairs from 2006 to 2008, he served as the state department's chief counsel on Guantanamo and Iraq detainee litigation and advised the department on law of war, human rights and public diplomacy questions during this time.
"You hear from human rights organizations who think we should either prosecute detainees or let them go,"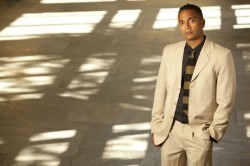 he said. "Well, let them go to where? There continues to be large numbers of individuals the government doesn't want to detain, but who cannot be returned to their home country because there is substantial risk of them being mistreated, or because their home country cannont mitigate their risk."
The Guantanamo problem is a small part of a larger need to update international law to account for conflicts with non-state groups, Padmanabhan explains. The Geneva Conventions, ratified after World War II to primarily regulate conflicts between states, has important gaps when applied to conflicts with groups like al-Qaida.
"The Geneva Conventions don't answer the question of what procedural protections need to be provided to individuals to determine whether they're being held properly as a combatant or not," Padmanabhan said. "Most of the litigation over the last 10 years at Guantanamo has been about what procedures the military must provide these detainees to confirm the lawfulness of their detention. Clear international law on this question may have avoided this controversy."
Padmanabhan proposes simple new rules that states must follow when detaining fighters who belong to non-state groups.
"These guidelines should be clear that all captured persons in conflicts with non-state groups are entitled to notice of the reasons for their detention, an opportunity to contest those reasons in front of a neutral fact finder and the right to appeal decisions to a higher authority," Padmanabhan said. "These simple rules would have avoided years of unnecessary detention in the post 9/11 conflicts where these procedures were not provided."
Padmanabhan also advocates for the creation of an international agency, similar to the Office of the U.N. High Commissioner for Refugees, with responsibility for assisting states in resettling detainees who do not qualify for refugee status where repatriation is not an option.
"If you're someone at Guantanamo Bay who the government does not wish to detain but does not qualify for refugee status, this new agency could help you find somewhere to resettle," he said.