Media Inquiries
Latest Stories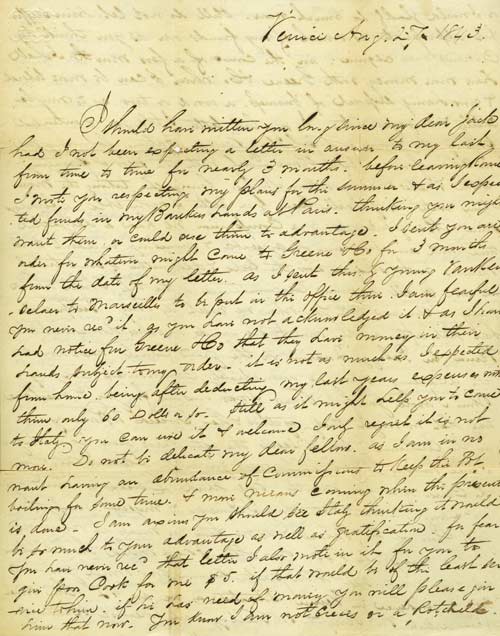 Art history professor emeritus Thomas Brendle Brumbaugh died Dec. 18, 2011, according to the Vanderbilt Department of History of Art.
He retired in 1985 from teaching art history survey, American art, nineteenth-century art, and Indian art at Vanderbilt, where he received the 1968 Madison Sarratt Prize for Excellence in Undergraduate Teaching. His scholarly interests ranged widely, from Ingres to Indian numismatics, and he published many articles on American painting, sculpture, and architecture. He was co-editor of Architecture of Middle Tennessee: The Historic American Buildings Survey and co-author of The Art of Gerald Brockhurst. Many alumni, undergraduate as well as graduate, will recall his erudition, his anecdotes, his kindness, and his humor.
As a youth in Pennsylvania, he began collecting stamps and autographed correspondence. Several public collections have benefited from his collecting, notably the Freer Gallery of Art and Arthur M. Sackler Gallery Archives, on whose website intern Beatrice Kelly wrote the following:
Thanks to his eagle's eye for diamonds in the rough that would augment the worth of the collection, Brumbaugh managed to acquire letters from a number of famous figures in the 19th and 20th century American art scene, including Thayer, Widener, George de Forest Brush, Samuel Coleman, and Maria Oakey Dewing…. The Thomas B. Brumbaugh collection of 19th and 20th century American artists' correspondence doesn't simply give the researcher a lopsided, art-focused view of those years, it paints a beautiful, multi-dimensioned picture of the time, covering everything from formal commissions for paintings to friendly invitations to dinner; from plain scenes of daily life to heart-wrenching appeals for forgiveness.
Brumbaugh published several articles on New England painter Abbott H. Thayer, including "An Artist and His Model: Abbott H. Thayer and Clara May," The American Art Journal, vol. 10 (May 1978). The Archives of American Art now holds some of the research materials from his collections.