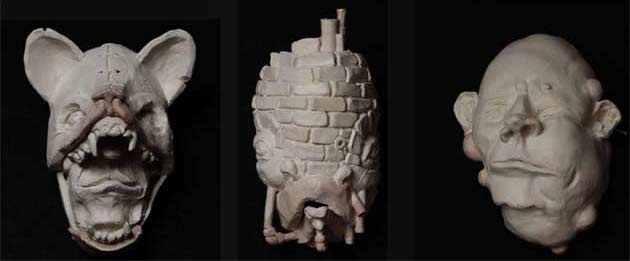 The Vanderbilt University Department of Art is proud to welcome a solo exhibition of sculptural ceramics by Vanderbilt alumnus Eric Ehrnschwender, recipient of the prestigious Margaret Stonewall Wooldridge Hamblet award in 2010.
By Self and Others will be exhibited in Space 204 from Jan. 12 through Feb. 17.  An opening reception will be held Thursday, Jan. 12, from 4 to 6 p.m. at the gallery, which is located on the second floor of the E. Bronson Ingram Studio Art Center, 25th Ave. S. and Garland on the Vanderbilt University campus.
All Space 204 exhibitions are free and open to the public. Gallery hours are Monday through Friday, 10 a.m. to 4 p.m.
As recipient of the Hamblet award, Ehrnschwender's prize provided for a year of art research and travel, culminating in a solo show in Vanderbilt's Space 204. During the past year, Ehrnschwender participated in the three-month-long Samband Íslenskra Myndlistarmanna (SÍM) artist residency program in Reykjavik, Iceland. While there, he began working on a series of introspective ceramic pieces, work which continued after his return to the United States and his hometown of Cincinnati, Ohio. This work culminates in his solo show By Self and Others.
"I am an artist who works from the inside out," Ehrnschwender said. "I am interested in giving psychological phenomena a physical form, isolating those facets of self and others that are often overlooked in an attempt to ask questions about our inner workings and the necessity of social norms. I make work about coping with and hiding emotions; about measures taken to feel safe in a world that is not; and about relationships, especially those in which power is uneven.
"The world is a very interesting and strange place, and our environment is more a part of us than most are willing to admit," he said. "In my work, the world in which these insecurities exist is conceived with the hope that our own reality will be reconsidered."
Contact: Diane Acree, (615) 343-7241
diane.acree@vanderbilt.edu