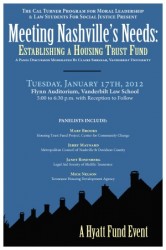 Nashville's need for more affordable housing and the impact of possible policy solutions are the focus of a Jan. 17 panel discussion at Vanderbilt University.
"Meeting Nashville's Needs: Establishing a Housing Trust Fund" will take place in Vanderbilt Law School's Flynn Auditorium from 5 to 6:30 p.m. with a reception to follow. The event is a unique opportunity for the public to receive information and hear focused discussion about this policy approach to housing – both nationally, and in Nashville, specifically. It is co-sponsored by the Hyatt Fund, the Cal Turner Program for Moral Leadership in the Professions and Law Students for Social Justice.
The panelists are Mary Brooks, housing trust fund director for the Center for Community Change; Jerry Maynard, at-large Metro Nashville councilman; Janet Rosenberg, attorney for Legal Aid Society of Middle Tennessee; and Mick Nelson, Tennessee Housing Development Agency policy analyst. Claire Smrekar, associate professor of public policy and education at Vanderbilt's Peabody College, will serve as moderator.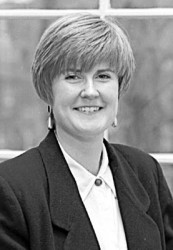 "The current scarcity of affordable housing in Nashville forces some individuals into substandard housing or even homelessness," said Smrekar, who advises a group of Cal Turner Program fellows (graduate students) researching this need. "This is a problem that affects all citizens as a lack of affordable housing often spikes demand for an array of community social services. It can also impact public health, neighborhood stability, crime and other issues."
The Vanderbilt professor noted that lack of stable, affordable housing also undermines student engagement across all grade levels and may lead to chronic absenteeism, repeated school changes and poor student performance.
Last year the Cal Turner Program Housing Trust Fund team visited Charlotte, N.C., and Indianapolis, Ind., to examine their established housing trust funds. This year a new team of fellows is building on those cities' best practices as they work to develop a framework for a proposal to be presented to city government leaders at a future date.
The panel discussion is free and open to the public. For more information, visit http://www.vanderbilt.edu/ctp/HousingTrustPanel.php.