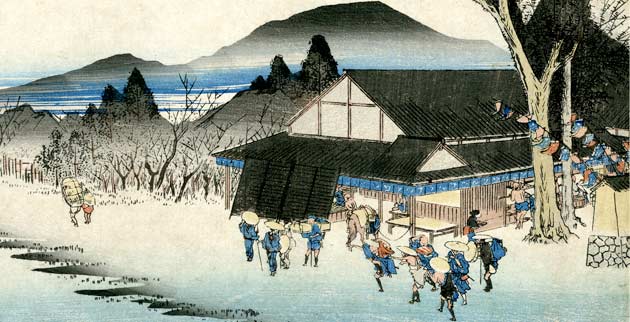 The Vanderbilt University Fine Arts Gallery is pleased to announce the opening of The Arts of Japan. The exhibit is drawn from the 1,300 exquisite Japanese works in the Fine Arts Gallery's permanent collection.
The Arts of Japan is presented in recognition of the twenty-fifth anniversary of the Asian American Student Association at Vanderbilt University and will feature the research of Fine Arts Gallery interns and research associates Rebecca Bratt, Meredith Novack, Ashley Pakenham and Christine Williams. This exhibition is also presented in recognition of the Centennial Celebration of the Gift of Cherry Blossom Trees from Japan to the United States, commemorating 100 years since the Mayor of Tokyo donated 3,000 cherry trees to Washington, D.C. The Arts of Japan is organized by the Vanderbilt University Fine Arts Gallery and curated by Joseph S. Mella, director.

This exhibition will open on Jan. 12, 2012, with a reception to be held from 5 to 7 pm. The Fine Arts Gallery is located in Cohen Memorial Hall, 1220 21st Avenue South, on the western edge of campus. All events are free and open to the public. The Arts of Japan will remain on view through Feb. 26, 2012.
The gallery is located on the second floor of Cohen Memorial Hall, Peabody Campus, 1220 21st Avenue South, Nashville, Tennessee. Gallery hours are Noon-4 p.m., Monday through Friday; Thursday until 8 p.m.; and 1-5 p.m., Saturday and Sunday.
Admission is free, and the public is welcome to attend.
ABOUT THE EXHIBIT:
The Arts of Japan is drawn entirely from the Fine Arts Gallery's permanent collection which houses over 1,300 Japanese works, encompassing both fine and applied art. According to Gallery Director Joseph Mella, "The Gallery's collection of Japanese art is one of the most respected in our region and a valuable resource to students and scholars of Japanese art and culture, as well as the general public."
Highlights of the exhibition will include two six-panel screen paintings: an early seventeenth-century work illustrating scenes from the Tale of Gengi and an eighteenth-century work featuring vignettes of daily life in Kyoto, each a masterful example of Japanese painting executed in mineral colors and gold leaf; a wide range of fine ceramics from blue and white porcelain to works by artists associated with the rebirth of the Japanese folk art movement; scroll paintings; over fifty woodblock prints by recognized masters of the medium; exquisite examples of lacquer, some embellished with gold and silver; and a selection of illustrated rare books.
Two scroll paintings depicting winter landscapes will be on display which new research has revealed to have a surprising connection. One is by seventeenth century painter Kanō Naonobu. The other, previously thought to be by an unknown artist, has recently been securely attributed to Kanō Yasunobu, the younger brother of Naonobu. These brothers, each a skillful artist in his own right, were descendants of the Kanō family who led the influential Kanō School of painting. For centuries, the Kanō family dominated official painting in Japan, passing their closely guarded ink painting techniques among their family and to a select group of apprentices.
The Arts of Japan will mark the first time these scroll paintings have been exhibited together as works by the same prominent family of artists. The Arts of Japan will also feature outstanding examples of graphic arts by such influential nineteenth-century Ukiyo-e artists as Utagawa Kunisada I, Utagawa Hiroshige, and Tsukioka Yoshitoshi. Japanese for "pictures of the floating world," Ukiyo-e prints were usually characterized by themes of ephemeral beauty or pleasure, often including scenes of Japanese landscapes, attractive courtesans, and the theater. Among the featured Ukiyo-e prints, several will be from Yoshitoshi's popular series Yoshitoshi Ryakuga (Sketches by Yoshitoshi). These prints, illustrating episodes from Japanese folklore and history, show a comedic and light-hearted side of this typically dark artist.
Select prints from Utagawa Hiroshige's series Fifty-Three Stations of the Tōkaidō Road will also be on view in The Arts of Japan. This series, drawn from Hiroshige's own travels on the Tōkaidō Road connecting Edo, modern day Tokyo, to Kyoto, was the artist's first attempt at a landscape print series and eventually contributed to his status as the foremost artist of topographical prints of his time.
The Arts of Japan also will allow visitors to view the evolution of Japanese printmaking in the twentieth century through examples by artists of the shin-hanga and sōsaku-hanga movements. After the decline of Ukiyo-e in the late nineteenth century, the shin-hanga (literally "new prints") movement, begun in 1912, sought to revive the subjects and style of the traditional Japanese Ukiyo-e, in some instances with added traces of Western aesthetics. At the same time, the sōsaku-hanga (translated as "creative prints") movement rejected the traditional division of labor in Japanese printmaking for a more Western method in which a single artist completed every step of the printmaking process, thus allowing for greater individual artistic control and expression. Examples from shin-hanga artists such as Takahashi Hiroaki (Shōtei) and Tsuchiya Kōitsu as well as sōsaku-hanga artists such as Joichi Hoshi and Reika Iwami will be on display.
ABOUT THE VANDERBILT UNIVERSITY FINE ARTS GALLERY:
The Vanderbilt University Fine Arts Gallery in Nashville, Tennessee, is a leading collegiate art gallery. The permanent collection consists of more than 6,200 works, including Asian and African art; nineteenth and twentieth-century European and American paintings and sculpture; Egyptian, Greek, and Roman art; medieval sculpture; early Italian Renaissance paintings; and an extensive collection of historic and contemporary works on paper.
Contact: Joseph Mella, (615) 343-1704
Joseph.mella@vanderbilt.edu