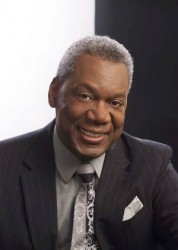 D'Army Bailey, an attorney, civil rights activist and former judge, will speak Jan.12 at Vanderbilt University Law School in commemoration of the Rev. Martin Luther King Jr.'s life and legacy.
Bailey, who played a pivotal fundraising role for the National Civil Rights Museum in Memphis and was its first board president, will speak at noon in Flynn Auditorium in the law school on "Law in the Hands of an Angry God." Vanderbilt University Law School is at 131 21st Ave. S. on the Vanderbilt campus.
The event is free and open to the public. It will be recorded and posted at www.vanderbilt.edu/news as a podcast. The event is co-sponsored by Vanderbilt Law School and the Black Law Students Association.
A native of Memphis, Bailey was expelled from Southern University in Baton Rouge, La., in the early 1960s as a result of his participation in demonstrations against segregation. Finishing his undergraduate studies at Clark University in Massachusetts, Bailey went on to graduate from Yale Law School in 1967.
Bailey is the former national director of the Law Students Civil Rights Research Council and served on the Berkeley City Council in the 1970s in California. He returned to Memphis in 1974, where he led the fight to preserve the Lorraine Motel – where King was assassinated in 1968 – and establish the National Civil Rights Museum there.
Bailey is the author of The Education of a Black Radical: A Southern Civil Rights Activist's Journey, 1959-1964 and Dr. Martin Luther King Jr.'s Final Journey. He has acted in several films including The People vs. Larry Flynt and How Stella Got Her Groove Back.
Bailey served as a circuit court judge in Tennessee for nearly two decades, resigning in 2009 to resume practicing law in Memphis. He has appeared as a legal analyst on the Court TV cable network.
For more information about activities at Vanderbilt University in observance of the Jan. 16 Rev. Martin Luther King national holiday, see http://www.vanderbilt.edu/mlk/.