Media Inquiries
Latest Stories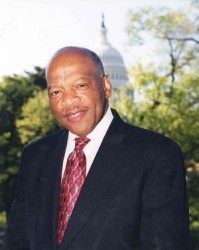 Civil rights legend U.S. Congressman John Lewis will deliver the keynote address at a 6:30 p.m. event at Vanderbilt University's Langford Auditorium commemorating the life and legacy of Dr. Martin Luther King Jr. Monday, Jan. 16.
The congressman's speech will be streamed live at news.vanderbilt.edu.
The event is free and open to the public, but tickets are required. Tickets are available now and can be picked up at the Sarratt Box Office in Sarratt Student Center. Vanderbilt students, faculty and staff must show Vanderbilt ID to pick up tickets.
The event featuring Lewis opens with performances by Vanderbilt student groups Voices of Praise, Victory A Cappella, Jeremiah Generation and the Blair Chamber Choir. Winners of an earlier MLK Essay and Oratorical Contest for local middle and high school students will also read their winning essays. Lewis will begin his keynote address at 7 p.m. A reception for attendees will follow the event.
Parking for the keynote event will be available in the 25th Avenue Garage. The gate for the 25th Avenue Garage will open on the 25th Avenue side beginning at 4 p.m. on Monday, Jan. 16. Visitors to campus may also park in the university's designated public parking areas.
The theme for Vanderbilt's commemoration is "Fostering the Beloved Community," which will carry through to Lewis' address.
Inspired by the activism surrounding the Montgomery bus boycott and the words of King, which he heard on radio broadcasts, Lewis organized sit-in demonstrations at segregated lunch counters in Nashville while a student at American Baptist College. In 1961, he volunteered to participate in the Freedom Rides, which challenged segregation at interstate bus terminals across the South.
During the height of the movement, he was named chairman of the Student Nonviolent Coordinating Committee, which he helped form. SNCC was largely responsible for organizing student activism in the movement. At the age of 23, he was an architect of and a keynote speaker at the historic March on Washington in August 1963.
Despite more than 40 arrests, physical attacks and serious injuries, Lewis remained a devoted advocate of the philosophy of nonviolence. After leaving SNCC in 1966, he continued his commitment to the Civil Rights Movement as associate director of the Field Foundation and by participating in the Southern Regional Council's voter registration programs. He went on to become the director of the Voter Education Project. Under his leadership, the VEP transformed the nation's political climate by adding nearly four million minorities to the voter rolls. In 1977, he was appointed by President Jimmy Carter to direct more than 250,000 volunteers of ACTION, the federal volunteer agency.
In 1981, he was elected to the Atlanta City Council. Five years later he was elected to Congress and has served as U.S. representative of Georgia's Fifth Congressional District since then. He is senior chief deputy whip for the Democratic Party in leadership in the House, a member of the House Ways and Means Committee, a member of its Subcommittee on Income Security and Family Support, and chairman of its Subcommittee on Oversight.
Lewis holds a bachelor's degree from Fisk University and is a graduate of American Baptist College, both in Nashville. He is the recipient of more than 50 honorary degrees and numerous awards.
Following Lewis' talk at Vanderbilt is the university's annual candlelight vigil at Benton Chapel. The vigil, an interfaith service, will include a message offered by Vanderbilt Divinity School doctoral student Brandon McCormack, prayers, prophetic sacred readings and music and spoken word performances by Vanderbilt students as well as university organist Jonathan Setzer.
Also on the holiday, the university will provide transportation for members of the Vanderbilt community wishing to participate in Nashville's annual citywide march and convocation. Starting at 10 a.m., buses will begin loading from Murray House at The Martha Rivers Ingram Commons, Branscomb Quadrangle and Kirkland Hall to take people to the starting point for the march. Lunchtime roundtable discussions on issues relevant to King's legacy and teach-ins conducted by Vanderbilt faculty and staff are scheduled throughout the afternoon. In keeping with MLK Day's recognition as a national day of service, students will participate in community service projects throughout the day and during the preceding weekend.
Vanderbilt students will also have the opportunity to tour significant sites in Nashville's civil rights movement with local civil rights leader Kwame Lillard. The buses will depart from Branscomb Quad at 12:15 p.m.
Also, an art exhibit titled "MLK Belongs To All: The Dr. Martin Luther King Jr. Memorial from the Lens of Dr. Lucius T. Outlaw" will open with a reception at the university's Bishop Joseph Johnson Black Cultural Center at 1 p.m. Outlaw, a Vanderbilt professor of philosophy, has captured the images, faces and emotions of the October dedication of the Martin Luther King Jr. Memorial in Washington, D.C. The exhibit will run Monday, Jan. 16, through Friday, Feb. 3. The center is open Monday through Friday from 8 a.m. to 5 p.m.
For a full listing of events, please visit the Vanderbilt University MLK Commemoration website at www.vanderbilt.edu/mlk.