Looking Back
by
Kara Furlong
Jan. 1, 2012, 8:01 AM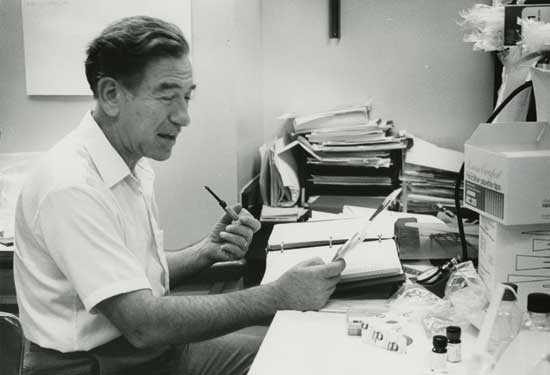 Born in Brooklyn, N.Y., to Russian Jewish emigrants in 1922, Stanley Cohen attended Brooklyn College, where he majored in biology and chemistry. After graduation, he worked as a bacteriologist at a milk processing plant to earn money before seeking a master's degree in zoology at Oberlin College, then a Ph.D. in biochemistry at the University of Michigan.
In the mid-1950s, Cohen was working at Washington University in St. Louis with Rita Levi-Montalcini, a visiting scientist from Italy who discovered nerve growth factor, when he stumbled upon another factor that stimulated epidermal growth and caused baby mice to open their eyes earlier than normal. After joining the Vanderbilt faculty in 1959, Cohen isolated epidermal growth factor and, with Professor of Biochemistry Graham Carpenter, characterized its receptor. Twenty-five years ago on Dec. 10, 1986, King Carl XVI Gustaf of Sweden presented the Nobel Prize in medicine jointly to Cohen and Levi-Montalcini for their discovery and characterization of nerve and epidermal growth factors and their receptors – the implications of which at the time had barely begun to be realized.
Today, the EGF receptor is the target for a growing number of cancer drugs. Families of EGF-like proteins and their receptors also are being studied for their potential role in preventing heart failure and bowel damage, slowing the progression of kidney disease and promoting liver regeneration. Cohen joined the late Earl Sutherland as the second Vanderbilt faculty member to win the Nobel Prize in medicine or physiology. He retired in 1999 and continues to live in Nashville, where he enjoys mentoring aspiring scientists.
Research by Bill Snyder