Bionics, time travel, Bono and, of course, cicadas are just some of the exciting stories that marked 2011 at Vanderbilt. Below are the year's top 20 Vanderbilt news stories, in order of the number of views they each received on the Vanderbilt News Network. Click on the headlines to read the full stories.
What will you remember about 2011? Tell us in the comment sections below.

---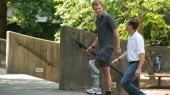 The top story of 2011 was that of 23-year-old amputee Craig Hutto and the bionic leg, developed by Vanderbilt engineer Michael Goldfarb, that he is testing.
---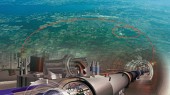 Vanderbilt physicist Tom Weiler and graduate fellow Chui Man Ho theorized that the Large Hadron Collider – the world's largest atom smasher – could be the first machine capable of causing matter to travel backwards in time.
---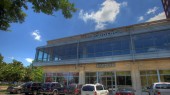 In a year marked by the closure of the beloved Davis Kidd bookstore in Green Hills, the Vanderbilt community and Nashvillians alike rejoiced to hear the Vanderbilt bookstore was moving into the space previously occupied by Borders at 2525 West End, and that Barnes & Noble would be taking the helm.
---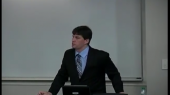 Michael Burry, a Vanderbilt School of Medicine alumnus known as being the first financial analyst to predict America's financial crisis, riveted his audience at his April 5 Chancellor's Lecture Series presentation and the nearly 22,000 viewers who later watched on the university's YouTube channel.
---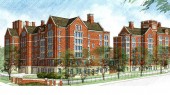 The university announced it will break ground in May 2012 on Kissam College Halls, the next phase in the College Halls project, which launched in 2008 with the opening of The Martha Rivers Ingram Commons.
---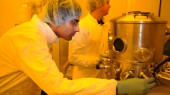 There is a new way to design computer chips and electronic circuitry for extreme environments: make them out of diamond, Vanderbilt engineers Jimmy Davidson, Nikkon Ghosh and Weng Poo Kang reported this year.
---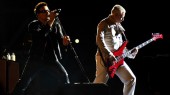 One of the biggest and most anticipated events of the summer in Nashville was the band U2's July 2 performance at Vanderbilt Stadium. Bono and the boys did not disappoint.
---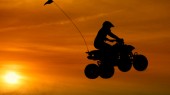 Everyone enjoys a little time off.
---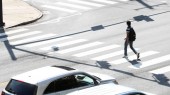 This article about pedestrian safety around campus was not only one of the year's most-viewed stories, it also drew many comments from drivers and pedestrians alike.
---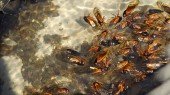 U2 wasn't the loudest campus visitor in 2011. That distinction surely goes to the Brood XIX cicadas who made their appearance this year, as they do every 13 years. Read more Vanderbilt articles about our red-eyed friends here, here, here and here.
---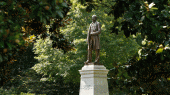 Vanderbilt retained its No. 17 national university ranking this year, with the School of Engineering moving up two places to No. 34. The university ranked No. 14 in the magazine's "Great Schools, Great Prices" list.
---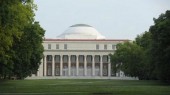 Speaking of rankings and three-peats, Peabody College of education and human development was again recognized as the No. 1 education school in the nation by U.S News & World Report.
---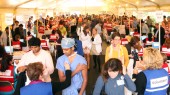 In what was hands-down our most exciting flu shot experience ever, Vanderbilt's Flulapalooza vaccinated 12,850 university and medical center faculty, staff and students in eight hours, easily securing the Guinness world record for such a feat.
---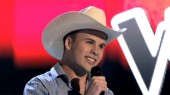 Blair and Arts and Science double major Patrick Thomas wowed fans and judges alike with his country crooning, making it all the way to the finals on NBC hit show "The Voice."
---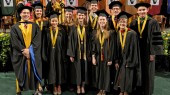 This year saw another remarkable group of Founder's Medalists. Since 1877, a gold medal has been awarded to the student graduating at the top of his or her class from each of Vanderbilt's schools.
---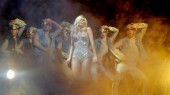 The quick and expert response of Vanderbilt's LifeFlight Event Medicine staff saved the life of 33-year-old Crystal Thornton, of Lyles, Tenn., whose heart stopped beating following a seizure at Lady Gaga's 2011 Nashville concert.
---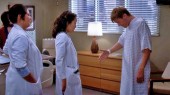 This episode of VUCast, Vanderbilt's weekly newscast, highlights an amazing case from Vanderbilt University Medical Center that inspired a fictional case on the television show "Grey's Anatomy."
---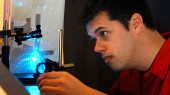 Vanderbilt engineer Sharon Weiss and her colleagues developed a simple technique for stamping patterns invisible to the human eye onto a special class of nanomaterials that provides a new, cost-effective way to produce novel devices in areas ranging from drug delivery to solar cells.
---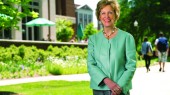 As Martha Ingram prepared to step down as chairman of the Board of Trust this spring, the board surprised her by naming the university's living-learning community for first-year students as The Martha Rivers Ingram Commons at Vanderbilt University. Mrs. Ingram's vision, leadership and generosity, and that of her family, touch every corner of Vanderbilt.
---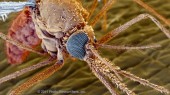 The discovery of a new class of insect repellants by Vanderbilt biologist Laurence Zwiebel's laboratory opens the door to future exploration of new tools in the fight against malaria and much more.
---