Media Inquiries
Latest Stories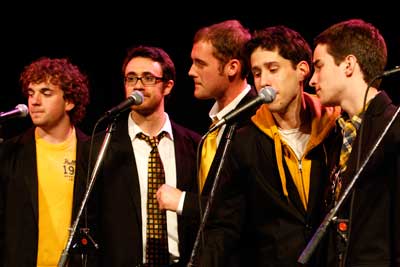 The Vanderbilt Melodores, an all-male student a cappella group, has been lauded among the "Top 10 American Collegiate A Cappella Groups" for 2011 by a popular a cappella blog.
The Melodores ranked No. 6 on the list, which also featured groups that have appeared on the NBC television show The Sing-Off, as well as the Tufts University Beelzebubs, who portrayed the fictional singing group The Warblers on Fox television's Glee.
"The 2011 ICCA (International Championship of Collegiate A Cappella) finals marked one of the most electrifying and diverse ICCA shows in years, and despite finishing in third place, it's completely fair to argue that The Melodores stole the show and put on the most memorable act of the night," wrote blogger Mike Chin. "The Melodores rapped, danced and chipmunk-sang their way through a set that felt like a revolution. Their sound and style is sure to be imitated for years to come, which may be the greatest statement anyone can make about the power and influence of a collection of artists."
Read the complete top 10 list at The A Cappella Blog.
Keep up with Melodores news and watch video on the group's Facebook page.
Contact: Seth Johnson
seth.w.johnson@vanderbilt.edu