Give to United Way of Metropolitan Nashville and help Family Teaching Kitchens bring healthy food options to Nashville families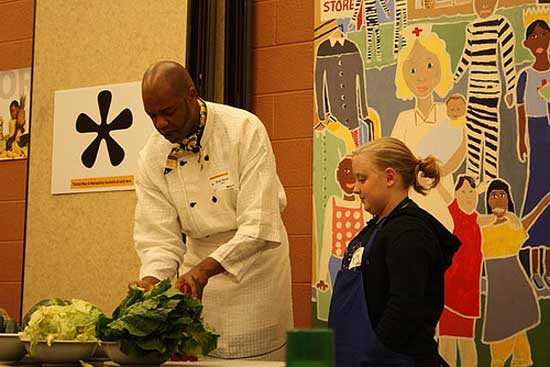 Being at the top of the list isn't always the best place to be.
In 2010, Tennessee ranked as the second-most obese state in the country and came in sixth for childhood obesity.
United Way of Metropolitan Nashville wants to change these statistics and put a halt to the growing obesity problem in Middle Tennessee with an initiative called Family Teaching Kitchens. The innovative program is designed to bring healthy lifestyles to the Nashville community in an effort to address the obesity crisis.
Gifts can be made to this and other community initiatives through Dec. 31, 2011.
"Obesity is a national epidemic and a major contributor to some of the leading causes of death in the United States," said Rebecca Carter, senior manager of Community Investments of United Way. "We need to change our communities into places that strongly support healthy eating and active living.
"The classes are interactive. Participants prepare a meal during the class, and they are able to ask the chef questions along the way," Carter said. "The goal is to teach people how to shop for, prepare and eat healthy meals on a budget."
Kimberly Goheen was excited to sign up for the Family Teaching Kitchen. Her daughter attends the daycare at St. Luke's Community House, where the first session was held in September.
"I thought it was very helpful," Goheen said. "The chef taught us things we could use every day. He was giving me a lot of new ideas and ways to incorporate some of the foods my daughter doesn't like.
"I also learned some new shopping techniques and how to encourage my daughter to try more foods," she said.
Goheen said programs like Family Teaching Kitchens really can make a difference in teaching the importance of buying fresh instead of processed foods.
"[rquote]People really do want to know how to prepare foods that taste good and that they can afford," she said. "Money is so tight, and anywhere we can learn how to substitute foods and stretch our budgets is very helpful."[/rquote]
The Family Teaching Kitchens concept includes regular healthy cooking classes taught by a trained chef, nutrition and wellness information provided by a nutritionist, and exercise tips from a fitness expert.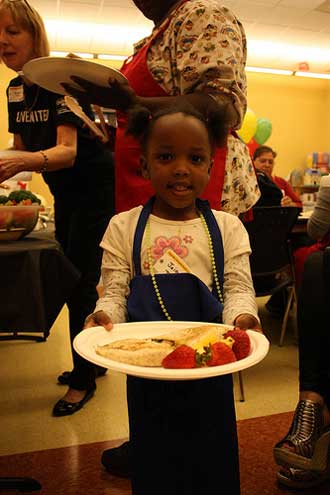 The program hopes to help nearly 420 families across the city, which translates to about 2,000 people. The program's target audience includes individuals and families living in areas served by United Way's 17 Family Resource Centers. Organizers hope to offer at least six Family Teaching Kitchens at each of the seven community-based FRCs in 2012, with plans to grow the program to school-based FRCs in 2013. Each session is expected to last about an hour and a half, and reservations are required for attendance.
"Each teaching kitchen is limited to 30 families per kitchen," Carter said. "A family can attend more than one teaching kitchen and is encouraged to come at least three times."
United Way's Women United in Giving, a group of community leaders committed to making a greater impact in the city, have adopted the Family Teaching Kitchens and have committed to volunteer, advocate and give in order to create a healthier community. Women United in Giving is one of many initiatives comprising United Way of Metropolitan Nashville. You may designate Women United in Giving or any United Way member organization when you give to the community through Vanderbilt Gives.
Community giving is tax-deductible and continues through Dec. 31. Payroll deduction makes it easy to spread a gift out over 12 months, and deductions begin January 2012. Visit Vanderbilt Gives for more information about giving options and to make your gift today.