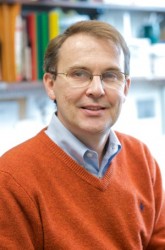 Philippe Fauchet will be the new dean of the school of engineering at Vanderbilt University.
Fauchet, currently chair of the Department of Electrical and Computer Engineering at the University of Rochester, begins work at Vanderbilt July 1, pending approval by the Vanderbilt Board of Trust.
"This is an important moment of transition for the School of Engineering," said Vanderbilt Chancellor Nicholas S. Zeppos. "Philippe Fauchet is already well-known and respected at Vanderbilt because of his accomplishments at the University of Rochester, and we anticipate great success as he brings his dynamic leadership to our campus."
Fauchet will succeed Dean Kenneth Galloway, who is returning to the faculty at the end of the current academic year after serving as dean since 1996.
"The engineering school is getting a visionary leader in Philippe Fauchet to build on the impressive contributions of Dean Ken Galloway," said Richard McCarty, provost and vice chancellor for academic affairs. "Philippe has broad experience as a researcher and he is a dedicated teacher and university citizen. I look forward to his arrival on campus with great excitement."
Galloway disclosed to members of the engineering faculty last spring that the 2011-2012 academic year would be his last as dean. Fauchet was named his successor after a national search by a provost-appointed committee.
During Galloway's tenure, research expenditures from external sources grew from less than $10 million to more than $60 million annually, according to Art Overholser, senior associate dean and professor of biomedical engineering and chemical engineering. The school has also experienced a steady rise in national rankings, facilities have been upgraded and outstanding faculty have been retained and recruited.
"I intend to build on the strong foundation laid by Dean Galloway and help the School of Engineering become a national leader that attracts the very best minds from the United States and abroad," Fauchet said. "I think Vanderbilt can have important impact on issues including improving health for our aging population, energy production, the environment and security."
Fauchet, 56, is the founder of Rochester's Center for Future Health, where engineers and physicians work to develop affordable technology that can be used in the home. He is also the founder of the Energy Research Initiative, a university-wide effort at Rochester to coordinate and expand the university's research and educational activities in all areas related to energy.
"With his considerable administrative experience and leadership skills, Philippe Fauchet will be a great fit for our School of Engineering and Vanderbilt University," said M. Douglas LeVan, the J. Lawrence Wilson Professor of Engineering at Vanderbilt and chair of the committee that recommended Fauchet. "The range of his research interests is extraordinary."
Fauchet earned his Ph.D. in applied physics from Stanford University in 1984. He graduated from Brown University in 1980 with a master's in engineering.
Fauchet has been the primary adviser of Ph.D. students in six different academic disciplines and is the author of 400 technical articles. He became the chair of the Department of Electrical and Computer Engineering at Rochester in July 2010.
"I have known Philippe for some 27 years," said Dennis Hall, vice provost for research and dean of the Graduate School at Vanderbilt. "His collaborative style, his record as a fine classroom teacher, and his history of personal engagement with productive research related to energy, health care, nanoscience and more, make him an excellent match and catch for Vanderbilt."
Fauchet and his wife, Melanie, a nurse practitioner, have 13 children ranging in age from 2 to 22. Eight of their children are adopted and five are biological.
The Vanderbilt School of Engineering, founded in 1886, is celebrating its 125th anniversary. It ranks No. 34 in U.S. News and World Report's evaluations of engineering programs nationwide. While retaining its strong focus on teaching, leaders at the school have dramatically expanded its research component, with an emphasis on the development of technology that is useful and accessible to the general public.
"I am especially looking forward to working with other academic units at Vanderbilt and also with the federal and state government, industry and our alumni," Fauchet said. "Together we can develop research and educational initiatives that will contribute to solve the most pressing societal problems the United States and the world are facing."