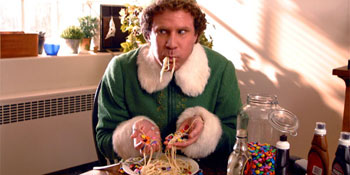 The holiday film Elf, starring Will Ferrell, will play at 7 p.m. Thursday, Dec. 8, in Sarratt Cinema. The screening is free and open to the public.
A movie full of yuletide cheer, Elf is a spirited, good-natured family comedy that benefits greatly from star Ferrell's funny and charming performance as one of Santa's biggest helpers. Ferrell plays Buddy, a regular-sized man who was raised as an elf by Santa Claus (Edward Asner). When the news is finally broken to Buddy that he's not a real elf, he decides to head back to his place of birth, New York City, in search of his biological family.
The free screening is sponsored by the Creative Campus Residential Experience and is being held in conjunction with the Sarratt Art Studios Holiday Arts Festival in Sarratt Gallery. Don't miss the last few days to shop for holiday gifts by local artists, including handcrafted jewelry, glass, pottery, books and cards, as well as items from Thistle Farms. Hours are 11 a.m.-7 p.m. Dec. 7-10, and 11 a.m.-5 p.m. on Sunday, Dec. 11.
Contact: JoEl Logiudice, (615) 322-2471
joel.logiudice@vanderbilt.edu