Steve Graham's career-spanning research explores the value of writing instruction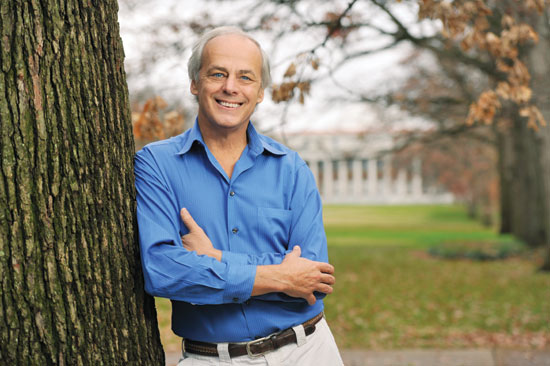 It's that time of year when children are penning their letters to Santa, careful to recount their every Christmas wish. While the biggest challenge for competent writers might be narrowing their list, a significant number of children struggle with writing altogether – an issue Steve Graham has spent nearly 30 years studying.
From the beginning of his career, Graham has focused his research on children who struggle academically. As a doctoral student in the late 1970s, he did most of his preparation in the area of reading. However, the more writing he did in his own coursework, the more fascinated he became with the types of things that affected how he wrote. He began to wonder how children with special needs go about the process and made a startling discovery.
"I realized virtually no one was looking at kids with special needs and how they wrote, and that's become my lifelong passion," said Graham, the Currey Ingram Professor of Special Education and Literacy, a chair he shares with fellow researcher Karen R. Harris.
As Graham explored this further, he was disheartened to find that little adaptation was made in writing instruction for children who have difficulty. Even more astonishing, he found that very little writing instruction was happening in schools at all.
"[rquote]My interest has always been kids who struggle, but I've realized that if we are going to address that adequately, we have to address the whole system, because there are too many things that are not working well in terms of writing instruction."[/rquote]
Although strong writing ability is an increasingly important skill for success in school and in the workplace, national assessments have revealed that two out of every three kids do not write well enough to meet grade-level demands.
Graham's research has found that much past third grade, there is very little time spent on writing. Half of teachers surveyed say they are not prepared to teach writing – a percentage Graham suspects is actually higher.
Another reason Graham says writing is underemphasized is because it is not an integral part of the education reform movement. While reading, math and science certainly deserve their due, excluding writing is problematic, he said.
"When we talk to college professors, we consistently hear that one out of two students come to college and don't have the writing skills they need to be successful," Graham said. "When employers of white-collar workers are asked about writing, 90 percent of them say it is a gateway to hiring and promotion, and 80 percent of blue-collar workers say writing is important in their jobs."
Graham also has addressed whether writing offers an added value to other subject areas, and the answer is a resounding yes, he said. Further, if you increase how much a student writes, they become more fluent readers and have greater comprehension of the text.
While most of Graham's research is on the "thinking end" of writing, it became clear to him that attention also must be paid to handwriting and spelling skills. Children who find writing challenging often focus on form, an issue he stumbled upon in a personal way.
"My daughter really struggled with basic writing and transcription skills," he said. "She would have odd ways of forming letters when she first learned to write – more like drawing letters than writing – and it took a very long time for her to do anything."
Now, at 25, Graham's daughter is an excellent writer in terms of her ideas, he said, but the difficulty she once faced has led to an avoidance of writing that affects her still.
She is not alone, as 10 to 20 percent of children have trouble with handwriting. There also is considerable evidence that people form very strong opinions about the quality of ideas based on legibility, a reality that influences grades.
Many school districts nationwide are eliminating cursive handwriting from the curriculum altogether, seeing it more as an art form than a necessary skill. Graham said children do not necessarily need cursive, but they must master one way of writing. With most classrooms ill-equipped with 21st-century writing tools, the need to write by hand legibly and efficiently is imperative.
While handwriting is important, there is much more involved in being a good writer, Graham said. In addition to technical mastery, good writing is strategic, knowledgeable and motivated.
"[lquote]When we look at these four things – strategy, knowledge, skill and will – all four are very important in moving from novice to competent to expert," he said.[/lquote]
Graham brought his work to Vanderbilt seven years ago, having spent the earlier parts of his career at the University of Maryland, Purdue and Auburn. He is the co-author of Handbook of Writing Research, Handbook of Learning Disabilities, APA Handbook of Educational Psychology, Writing Better and Making the Writing Process Work and has published more than 250 chapters and papers on his research.
"There is a perception that writing is more a gift or talent, rather than something that can be taught," he said. "To rise to a certain level there has to be talent, but there is a base level of instruction that every child deserves. If you don't have that base level, it puts you in jeopardy. There are no two ways about that."