The First Amendment Center marks 20 years of supporting our nation's basic freedoms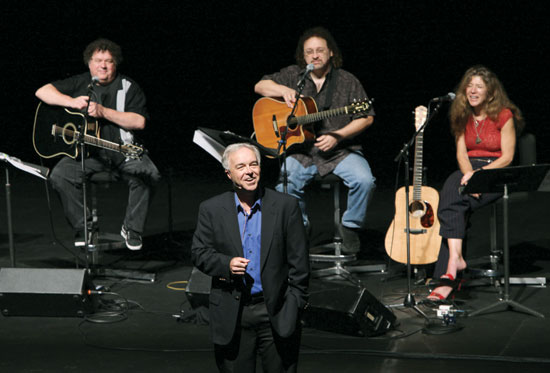 Protesters camp out in front of a government building and are arrested. A celebrity spouts off to a reporter and loses his endorsement deal. A network TV executive refuses to air a music video she deems indecent. Was the First Amendment violated? Does freedom of speech have limits?
When incidents like these hit the news, the phones at the First Amendment Center light up. Celebrating its 20th anniversary this month, the First Amendment Center, a privately funded entity that makes its home on Vanderbilt's campus at the corner of 18th Avenue South and Edgehill, is a national epicenter for dialogue on current events that challenge America's constitutional freedoms.
The mission of its 12-person staff – including two staffers based at the Newseum in Washington, D.C. – is to "support the First Amendment and build understanding of its core freedoms through education, information and entertainment." The center's programming includes a number of innovative efforts, such as an online news and information website, tie-ins with recording artists and musicians, an annual moot court competition for law students and a Twitter-driven scholarship contest.
"Almost everyone who works here is a former journalist, so we tend to be storytellers and reporters," said Ken Paulson, president and CEO of the First Amendment Center and former editor and senior vice president of USA Today. "We start each day with a news meeting where we go over what happened in the First Amendment world in the last 24 hours. The website is designed to tell the public every day what is new with such issues as the Occupy movement or prayer in school, and what new laws are being considered."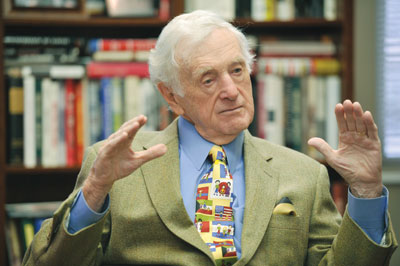 The First Amendment Center has come a long way since its conception and founding in 1991 by John Seigenthaler, former editor and chairman emeritus of The Tennessean and founding editorial director of USA Today. The announcement of its establishment came on Dec. 15, 1991 – the 200th anniversary of the Bill of Rights.
A notable civil rights advocate, Seigenthaler was on the cusp of retirement from journalism when he approached Vanderbilt's then-Chancellor Joe B. Wyatt to see if he could take over a small space on campus.
"I told Joe I had some grant money and wanted to establish a First Amendment Center at Vanderbilt," Seigenthaler said. "Joe said, 'Do you believe in a handshake?' I said, 'Yes,' and he said, 'Well, let's shake hands on it.' And it was that simple. He understood immediately what I was trying to do. We've had a long relationship with Vanderbilt, and that relationship has been very positive for us ever since."
The First Amendment Center is funded by the Freedom Forum, a foundation that is the main funder of operations at the Newseum in Washington and the Diversity Institute, also headquartered on the Vanderbilt campus.
One way the First Amendment Center educates the public about the importance of the First Amendment – especially college-age students – is through Freedom Sings. This multi-media musical event features renowned musicians performing songs that have been banned or censored over the years, accompanied by a narrator.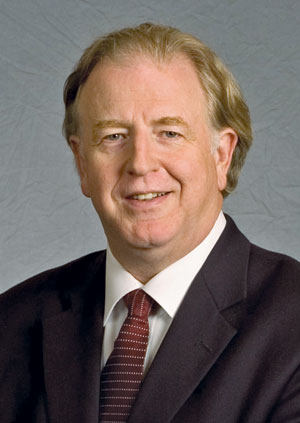 "We recognized early on that if you put a sign out that says, 'Lecture tonight on the First Amendment – attendance is purely voluntary,' well, good luck with that," said Gene Policinski, senior vice president and executive director of the First Amendment Center. "But if you advertise a show that includes top musicians playing 90 minutes of censored and banned songs, or music that inspired the nation, you'll have a packed house."
Another program the center uses to target students is the annual National First Amendment Moot Court Competition conducted in conjunction with Vanderbilt Law School.
The competition has students argue a hypothetical case based on a timely First Amendment issue. Students from peer institutions participate, and notable lawyers serve as judges. More than 1,200 law students have participated in the competition since its inception in 1994, according to Tiffany Villager, director of First Amendment research at the center.
"Each year, it's satisfying to see the hypothetical come to life when the competitors are making their oral arguments," Villager said. "I believe the students leave the competition with a greater appreciation of their First Amendment rights and the importance of this right to our democracy." The next competition is scheduled for February 2012 and will focus on the constitutionality of religious displays on public property.
First Amendment Center staff spend a great deal of time speaking nationally at schools and community centers and often are called upon to comment in the press. But don't expect them to take sides.
Paulson was asked to comment on ESPN's recent decision to drop Hank Williams Jr.'s long-running theme song from Monday Night Football after Williams made controversial remarks about President Obama.
"When there is a controversy or something that polarizes the community, we can be a source of information," Paulson said. "But we don't lobby or litigate. We don't take sides."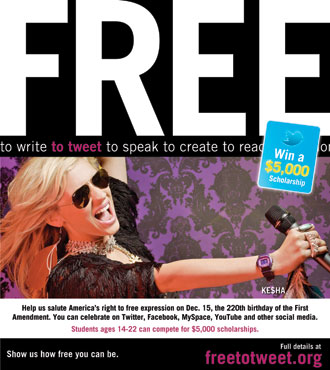 The First Amendment represents the most basic freedoms Americans enjoy. Yet, "only a small percentage of citizens can even name those five freedoms," said Policinski, who oversees the nationwide State of the First Amendment Survey the center conducts each year. Only three of every 100 Americans could name all five freedoms (speech, religion, the press, assembly and petition) in this year's survey, he said.
"We are fortunate to live in a nation in which everyone is free to say what they believe and to worship the god of their choice. But unless we daily reaffirm our commitment to that, we will fall short," Paulson said.
Paulson is one of the founders of "1 for All," a national campaign that is drumming up notice for the 220th anniversary of the ratification of the Bill of Rites on Dec. 15. The campaign includes the Free to Tweet scholarship contest, in which students between the ages of 14 and 22 are encouraged to use Twitter to wish the Bill of Rights a happy birthday. Their tweets – for which they must use the hash tag #freetotweet – will make them eligible to win one of 22 $5,000 academic scholarships. Supporters of the campaign include rocker Ke$ha and country crooners Blake Shelton and Brad Paisley.
"People aren't aware of how much the First Amendment applies to their daily lives," Paulson said. "But it's as important and relevant to your life as what happens in the public school your child attends, or an opinion you might want to express to the government. It's not Republican or Democrat, East or West, North or South. It's simply something Americans can all buy into."