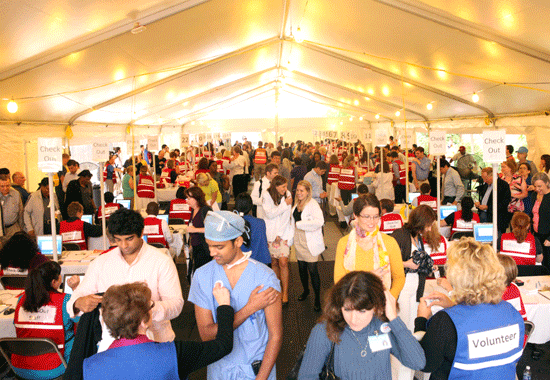 Vanderbilt University Medical Center has been notified by Guinness World Records that it now holds the world record for the most vaccinations given in eight hours.
The achievement – 12,850 flu shots given during October's Flulapalooza – was announced at a VUMC leadership meeting Dec. 1 and included a video message from Bruce Gellin, deputy assistant secretary for health and director of the National Vaccine Program Office of the United States Department of Health and Human Services.
"Although the official goal of the event was to test the medical center's emergency mass vaccination plan as if there really was a pandemic, the second goal – breaking the Guinness world record – was done to generate excitement and increase participation for the event," said Jeff Balser, vice chancellor for health affairs and dean of the School of Medicine. "[rquote]We are very grateful to our faculty, staff, students and volunteers for exceeding participation expectations and helping us achieve the world record."[/rquote]
Guinness World Records has not yet updated their website to show that Vanderbilt holds the record, but Balser was presented with an official certificate at the leadership assembly. Vanderbilt more than doubled the previous world record, 6,215, held by San Diego's Kaiser Permanente.
Free flu vaccines were given to university and medical center faculty, staff, volunteers and students during a daylong event Oct. 12. Forty-four nurses at a time, from a labor pool of 138, worked simultaneously at individual stations in the Flulapalooza tent with a separate group of volunteers maintaining patient flow and logistics. The team planning and implementing the exercise met earlier this summer with a representative from the University of Louisville, where a similar event to vaccinate for H1N1 was held in 2009.
A Centers for Disease Control and Prevention principal investigator on large-scale dispensing and emergency response supervised students from Georgia Tech who were on hand to conduct a time-motion study during the exercise. The CDC will analyze the information and send recommendations to Vanderbilt for use in future tests of the mass vaccination plan.
"They were impressed with our flow, but think it can be better," said Pam Hoffner, director of Emergency Preparedness and Response for Vanderbilt and the event's incident commander. "We will be able to take that information and redesign the tent flow to be more efficient based on what they have recommended."
Future exercises might include pediatric patients and family members of faculty and staff, Hoffner said.