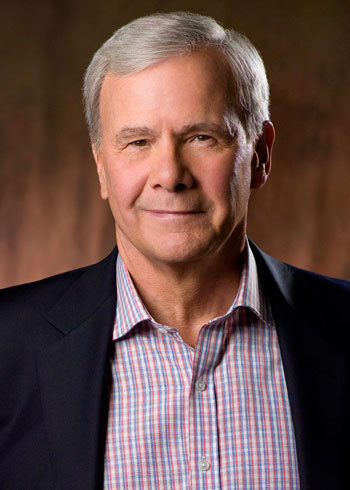 Tom Brokaw, one of the most trusted and respected figures in broadcast journalism, will receive Vanderbilt University's prestigious Nichols-Chancellor's Medal in May 2012 when he addresses graduating seniors and their families during Senior Day.
Senior Day, which will be held Thursday, May 10, precedes Vanderbilt's annual Commencement ceremony for graduating seniors on Friday, May 11, and is a highlight of three days of activities honoring graduates, their families and friends. For more information on Senior Day and other events, visit Vanderbilt's updated Commencement website.
"Through his groundbreaking journalism career, Tom Brokaw has shed light on some of our world's most critical issues, and in the process has helped, and continues to help, us discover and learn from our common humanity," Chancellor Nicholas S. Zeppos said. "His books on 'the greatest generation' and on one of our most important decades, the 1960s, remind us of our past, which can have important lessons for our future."
Brokaw, a special correspondent for NBC News, reports and produces long-form documentaries and provides expertise during election coverage and breaking news events.
In 2004, he stepped down after 21 years as anchor and managing editor of NBC Nightly News. He has received numerous honors, including the Edward R. Murrow Lifetime Achievement Award and the Emmy Award for Lifetime Achievement, and he was inducted as a fellow into the prestigious American Academy of Arts and Sciences.
Brokaw also has received the Records of Achievement Award from The Foundation for the National Archives; the Association of the U.S. Army's highest award, the George Catlett Marshall Medal; and the West Point Sylvanus Thayer Award in recognition of devoted service to bringing exclusive interviews and stories to public attention. He is the first journalist to receive the Thayer Award. Brokaw's work also has earned him a dozen Emmys and two Peabody and duPont awards.
Over the years, he has reported on subjects ranging from race, AIDS, the war on terror, Los Angeles gangs, poverty, literacy, immigration and the evangelical movement. He also has interviewed every president since Lyndon Johnson and has covered every presidential election since 1968.
In 1998, Brokaw became a best-selling author with the publication of The Greatest Generation. His subsequent books include The Greatest Generation Speaks; An Album of Memories; A Long Way from Home, a reflective look about growing up in the American heartland; and BOOM! Voices of the Sixties, in which he shares a series of remembrances and reflections of the decade based on his experiences and more than 50 interviews with a variety of well-known artists, politicians, activists, business leaders and journalists, as well as lesser-known figures, including a daughter of a former Mississippi segregationist governor, Vietnam veterans, civil rights activists, health care pioneers, environmentalists and war protesters.
Previous recipients of Vanderbilt's Nichols-Chancellor's Medal include Laura Bush, Muhammad Yunus, Bob Geldof, Doris Kearns Goodwin, Khaled Hosseini and Wangari Maathai.
The Senior Day address by Brokaw will be held at 11 a.m. in Memorial Gym. Brokaw's address also will be streamed live on the Vanderbilt News website.