Legendary sax player Bobby Keys to address History of Rock class Dec. 1
by
Chris Skinker
Nov. 28, 2011, 11:42 AM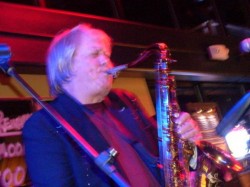 From Elvis Presley to the Rolling Stones and late Beatles George Harrison and John Lennon, saxophone player Bobby Keys has played with the greatest of the greats.  On Thursday, Dec. 1, Keys will be the guest lecturer in Jennifer Gunderman's History of Rock class.
The lecture will take place 11 a.m. to 12:15 p.m. in Sarratt Cinema. The event is free and open to the public.
A musician who can easily glide through musical genres that include pop, R & B and blues, the tenor saxophonist and Texas native began playing music professionally in the 1950s. Early work experience included stints with Buddy Holly and teen idol Bobby Vee. In the late 1960s Keys was a member of the A-team of musicians at the famed Muscle Shoals studio in Alabama.
Keys reportedly met the Rolling Stones at the San Antonio Teen Fair in 1964 but it would be a few years before he would work professionally with the group. In the late 1960s, he made his debut recording with the Rolling Stones and appeared on the track "Live with Me" from the group's Let it Bleed album.
Keys forged a friendship with the Stones' guitarist Keith Richards and toured and recorded extensively with the group for the next several years.  Other Stones recordings on which Keys appeared include Sticky Fingers, Goat's Head Soup and Exile on Main Street.  His association with the Stones led to recording work with George Harrison (All Things Must Pass), Eric Clapton (Eric Clapton) and Joe Cocker (Mad Dogs and Englishmen).
In the early 1970s Keys released a self-titled album for Warner Brothers records that included guest appearances by Ringo Starr, Clapton and Traffic. He released Gimme the Key on Starr's record label Ring O'Records in 1975.
More recent work has included a guest appearance on Sheryl Crow's The Globe Sessions recorded in the late 1990s.