New policies geared toward students who like their beverages and snacks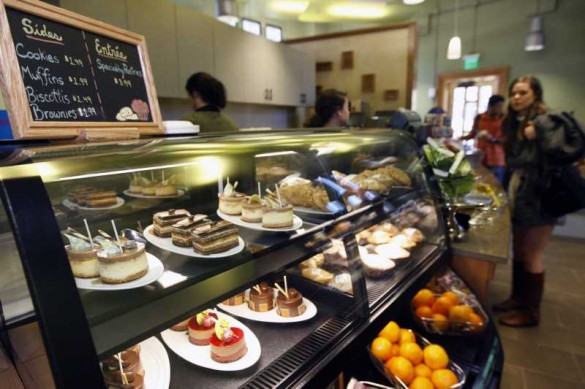 With the recent addition of the Food for Thought Café in Vanderbilt University's Central Library, food-friendly policies have been implemented throughout the Jean and Alexander Heard Library system.
Food and drinks in covered containers are permitted now in all libraries except for those areas with rare books and special materials, such as Special Collections and the W.T. Bandy Center for Baudelaire and Modern French Studies.
"[rquote]Our libraries should be as welcoming and comfortable as possible," said Connie Vinita Dowell, dean of libraries.[/rquote] "For our students who often study late into the evening, this is an especially important policy change. In many ways, it is a natural next step with the cafe and our other user-friendly policies. I have confidence our students will act responsibly with consideration for our facilities."
Additional recycling bins have been placed through the libraries to accommodate the extra paper cups and packaging materials that result from the new policy. There already has been a large increase in the amount of recycling materials being collected in the libraries, according to Bill Hook, associate dean of libraries.
"I strongly believe the new, food-friendly policies will make Vanderbilt's libraries much more than a destination for research," said David Head, chief of staff for Vanderbilt Student Government. "Epitomized by the Food for Thought Cafe in Central Library, students will now have a greater incentive to both study and socialize within the libraries."
Many of those who responded at Vanderbilt to a research library survey that evaluates user perceptions of library service quality expressed the desire to have food without having to leave the library building. The decisions to add a café and implement food-friendly policies were, in part, a response to the survey findings.
Earlier this year Vanderbilt libraries received more than 1,200 responses when it asked the university community for its input on a name for the new café. Now the library administration is asking students, faculty, staff and alumni to express a preference for three possible word marks for the café.