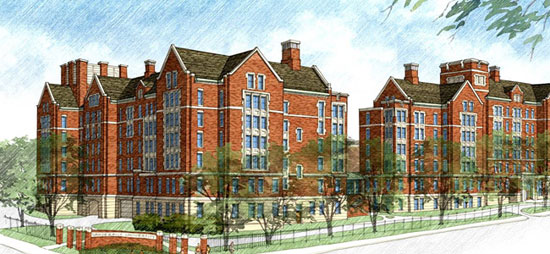 Vanderbilt is set to begin construction of the next phase of its residential college system – College Halls at Vanderbilt – and a special provost's task force is seeking feedback from the Vanderbilt community.
The College Halls Task Force recently completed a series of meetings with members of the Vanderbilt community and drafted a set of College Halls principles and supporting policies in anticipation of the opening of the first colleges in July 2014.
A draft report outlining the task force's recommendations is posted for open comment until Thursday, Dec. 8.
The task force, chaired by Cynthia Cyrus, associate provost for undergraduate education and associate professor of musicology, included Mark Bandas, associate provost and dean of students; Susan Barge, associate provost for strategic initiatives; Beth Conklin, associate professor of anthropology; Sean Donahue, the Sam and Darthea Coleman Chair in Pediatric Ophthalmology; Brian Griffith, assistant clinical professor of human and organizational development and director of the HOD program; Vanderbilt senior Zye Hooks; Vanderbilt senior Ian King; Jim Lovensheimer, associate professor of musicology; Bridget Rogers, associate professor of chemical and biomolecular engineering; Tom Schwartz, professor of history; Leigh Shoup, executive assistant to the chancellor; and Randy Tarkington, senior director of residential education.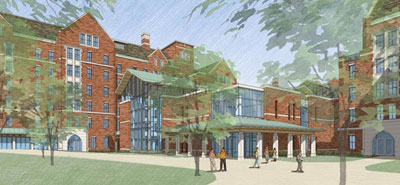 The university will break ground in May 2012 on the first two residential colleges that will each house about 330 upperclass students and be led by a faculty director-in-residence. Each college also will be divided into two halls, each led by a resident graduate fellow.
The six existing Kissam Quadrangle buildings, located near the intersection of West End Avenue and 21st Avenue South, will be demolished to make way for the two colleges, which will be connected by a shared facility providing gathering space, grab-and-go dining options, a classroom, offices and meeting rooms.
The $115 million project, a top initiative of Chancellor Nicholas S. Zeppos, is expected to be complete in fall 2014. Funding for the project will be provided entirely through philanthropy and internal resources.