UPDATE: AS OF 11/28/11, THIS EVENT IS SOLD OUT.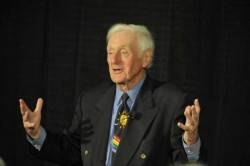 NASHVILLE, Tenn. – John Seigenthaler of the First Amendment Center at Vanderbilt will speak during a celebration of the 220th anniversary of the Bill of Rights.
Seigenthaler, founder of the First Amendment Center and chairman emeritus at The Tennessean, will speak at the 7 to 9 p.m. dinner Nov. 28 in the Board of Trust room of Vanderbilt's Student Life Center, 310 25th Ave. S.
A limited number of free tickets to the dinner are available to the public. To reserve a ticket, contact the Office of Active Citizenship and Service at (615) 322-3127. The event will be taped for podcasting at the Vanderbilt News and Communications website.
The Bill of Rights was ratified on Dec. 15, 1791. The first 10 amendments to the U.S. Constitution, the Bill of Rights protect citizen rights to liberty and property including freedom of religion, press and assembly and the right to bear arms.
The Bill of Rights event is sponsored by the Office of Active Citizenship and Service, the Office of the Dean of Students, Vanderbilt Student Government, The Vanderbilt Political Review, Vanderbilt College Republicans and the First Amendment Center.
The First Amendment Center, formed to support the First Amendment and build understanding of its core freedoms through education, information and entertainment, is celebrating its 20th anniversary.