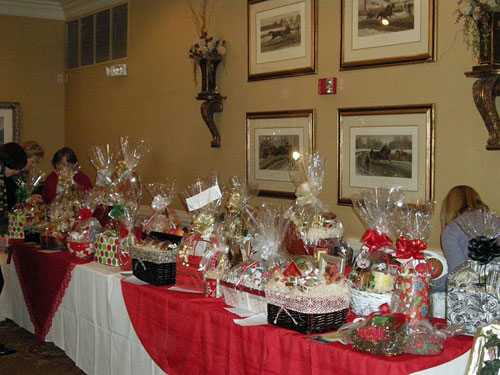 The Vanderbilt Woman's Club will hold its annual Holiday Luncheon and Craft Bazaar on Thursday, Dec. 1, 2011 from 11 a.m. until 1:30 p.m. at the Hillwood Country Club.
This event is open to the public, however reservations are required.
The luncheon is a delicious way to kickoff the holiday season. You are sure to find something special for everyone on your shopping list among the unique holiday décor, accessories and gift items on sale from local vendors and artisans before and after the luncheon.
Proceeds from the bazaar go to fund the Ada Bell Stapleton/Blanche Henry Weaver Scholarship program for Vanderbilt's student scholars. To reserve a place at the luncheon, download the reservation form.
Return the form with your $25 check per person payable to "Vanderbilt Woman's Club" 690 Jones Hill Drive, Brentwood, TN 37027-6130. Reservations must be received by Wednesday, Nov. 23, 2011. For questions or additional information email degalloway@comcast.net
About the Vanderbilt Woman's Club
The Vanderbilt Woman's Club brings together the women of Vanderbilt University and provides an opportunity for intellectual, cultural and social activities within the community and the university. The club supports and assists the mission of the university and sponsors the Ada Bell Stapleton/Blanche Henry Weaver Scholarship through fundraising efforts. Founded in 1893 as the Vanderbilt Ladies Literary and Musical Club the name was changed to the Vanderbilt Woman's Club in 1896. Current membership includes almost 300 faculty, staff, faculty spouses, and other members of the greater Nashville community who come together in friendship, fellowship, and scholarship. During the academic year social and educational programming fills the calendar from September through May.
Contact: Terri Hershberger, terri.hershbergert@vanderbilt.edu