Media Inquiries
Latest Stories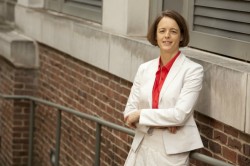 Ingrid Wuerth, professor of law and director of the International Legal Studies Program at Vanderbilt Law School, has been named to the State Department Advisory Committee on International Law.
Wuerth accepted the appointment this month. The committee brings together professors, practitioners and policymakers who are experts in international law to advise Secretary of State Hillary Clinton and her legal adviser, Harold Koh. "I am very excited and honored to have the opportunity to serve the secretary and the legal adviser as they make decisions about international law," Wuerth said. She joined the Vanderbilt Law faculty in 2007.
Wuerth has written broadly on international law in domestic courts and U.S. foreign relations law.  At Vanderbilt she teaches International Law, Foreign Relations Law, Civil Procedure and Comparative Constitutional Law. She has held a variety of leadership positions with the American Society of International Law and spent most of 2011 as a visitor at the Humboldt University Law School in Berlin with the support of the German Academic Exchange Commission. She previously served as a Fulbright Senior Scholar and a Chancellor's Scholar of the Alexander von Humboldt Association.  Wuerth received her J.D. from the University of Chicago Law School and a B.A. from the University of North Carolina at Chapel Hill. Her scholarship has appeared in the Harvard and Virginia journals of international law, as well as the Chicago, Michigan, Northwestern and other law reviews.
One of 10 schools of Vanderbilt University, Vanderbilt Law School has been educating attorneys, policy makers and public servants for more than 135 years.