Media Inquiries
Latest Stories
Applications are being accepted for the second class of Vanderbilt University's innovative Ph.D/J.D. track, culminating in degrees in both law and neuroscience.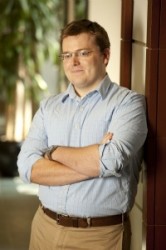 Vanderbilt launched the first coordinated track through both degrees in 2010 when it enrolled Bowdoin College alumnus Matthew Ginther to take on a challenging curriculum that alternates classes at Vanderbilt Law School and the university's graduate program in neuroscience.
Graduates of the seven-year joint degree track, – who receive coordinated mentoring from the faculty in both departments – will be poised to help guide legal and scientific experts as they negotiate challenging issues arising at the intersection of the two disciplines.
"These are different but increasingly related worlds and they need to be bridged," said Owen Jones, the New York Alumni Chancellor's Chair in Law, professor of biological sciences and director of the MacArthur Foundation Research Network on Law and Neuroscience, all at Vanderbilt.
"They have different vocabularies, different norms and different purposes. The legal system is trying to figure out how to grapple with advances in neuroscience in a sensible and sophisticated way that furthers the goals of law. As a consequence, we need to help judges learn what they need to know to make admissibility decisions about brian-related evidence that can raise deep questions about a defendant's responsibility for his actions. We also need to help lawyers understand both the promise of, and the limitations of, neuroscientific evidence."
Vanderbilt is also home to the John D. and Catherine T. MacArthur Foundation Research Network on Law and Neuroscience. That national network of scholars is working on cutting-edge law/neuroscience research, with the goal of helping to improve the fairness and effectiveness of the criminal justice system. It has also gathered the most extensive bibliography of resources on law and neuroscience on the Web and is set to produce the first course book on law and neuroscience in 2013.
Ginther is pleased with the joint-degree track midway through his second year. His first two semesters were spent at the law school. Now he is concentrating on neuroscience, and from here on out he will blend the two worlds.
"I have to maintain dual personalities," Ginther said. "If you talk like a lawyer in a neuroscience class, it won't work. And if you talk like a neuroscientist in a law class, that's also a problem. Yet it's vitally important to improve communication between the two groups."
Advances in the study of the brain continue to add layers of complications to legal proceedings, Jones said. "Thorny questions will only increase as research continues, and Matt Ginther and the people who follow
him in this program are being trained to help society negotiate this tricky terrain, and to help make the justice system both more effective and more just."