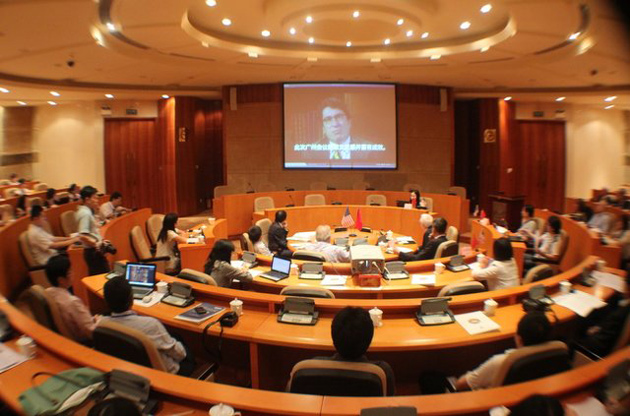 Vanderbilt scholars gathered with colleagues in the People's Republic of China recently to discuss folklore and build relationships within the Southeast provinces.
The conference, the First China-U.S. Forum on Intangible Cultural Heritage: Comparative Policies, took place on Nov. 6 and 7 at a conference center about 30 miles outside Guangzhou. The discussions centered on comparative research agendas and policy issues shaping work in folklore or intangible cultural heritage in the United States and China.
Among the 40 cohorts at the event were Bill Ivey, director of the Curb Center for Art, Enterprise and Public Policy at Vanderbilt, and Edward F. Fischer, professor of anthropology and director of the Vanderbilt Center for Latin American Studies.
Chancellor Nicholas S. Zeppos prepared a video greeting in English, which was subtitled in Chinese and played on a large screen at the event's kick-off.
"The chancellor's participation helped convey our commitment to the region and Vanderbilt's optimism about the potential for expanding the relationship with Sun Yat-sen University, South China Normal University and other institutions in the Pearl River Delta," said Ivey, whose participation marked his seventh visit to China. "This was a great sign of respect for our counterparts and his personal greeting was very well received."
Papers were presented by scholars from several institutions, including Western Kentucky University and Ohio State University, and presentations were made by representatives of the Smithsonian Institution in Washington, D.C., and the Institute of Chinese Intangible Cultural Heritage at Sun Yat-Sen University in Guangdong Province. Sun Yat-Sen University co-produced the conference with the Curb Center.
The conference was the first in a series of four. The second will be at Vanderbilt in late April 2012. The forum-style series is part of an initiative developed by the American Folklore Society and funded through a grant from the Henry Luce Foundation. Ivey is past president of the AFS and currently serves as China liaison for the society.
Vanderbilt is growing its relationship with Southeast China. In May 2011, a delegation of Vanderbilt leaders visited Guangzhou, including Richard McCarty, provost and vice chancellor for academic affairs; Camilla Benbow, the Patricia and Rodes Hart Dean of Education and Human Development; Tim McNamara, vice provost for faculty and international affairs; and Xiu Chen Cravens, research assistant professor of education policy.
A delegation of Chinese educators from the Guangdong Province visited Vanderbilt Oct. 24-Nov. 4 under the auspices of Vanderbilt and South China Normal University.