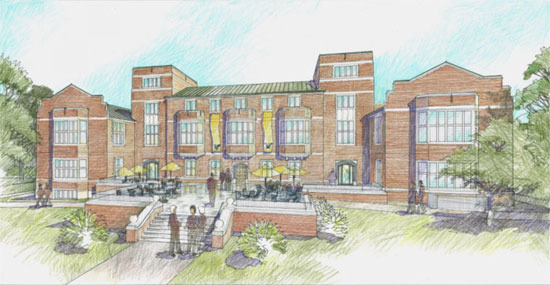 The Vanderbilt Board of Trust's Executive Committee voted Nov. 10 to begin significant renovations to Alumni Hall in order to create flexible spaces to support a wide range of activities – such as tutoring, catered dining, meetings, studying and socializing – while maintaining the integrity of the building's historic architecture.
Construction is scheduled to begin immediately following May 2012 Commencement and conclude in July 2013. Expanded terraces, a new classroom, music lounge, exercise room, writing center, faculty office suite and café are planned for the Collegiate Gothic-style building originally completed in 1925. Funding for the renovations will be provided by a combination of philanthropy and internal sources.
Also, thanks to a generous gift from the Joe C. Davis Foundation, the Memorial Room on the second floor will be named in honor of Joe C. Davis Jr., a 1941 graduate of Vanderbilt. Regarded as a Vanderbilt tennis legend, Davis won SEC titles in 1939, 1940 and 1941. He also was a longtime benefactor of the university and served on the Vanderbilt Board of Trust.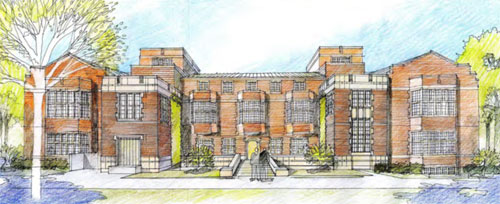 Increased student engagement and leadership on campus was cited as the reason for needing additional meeting and gathering space. University officials said the number of student-led organizations has pushed available meeting space at nearby Rand Hall and Sarratt Student Center beyond capacity.
Having a renewed Alumni Hall also will benefit the students living in the first College Halls when they open to approximately 660 upperclassmen in fall 2014 on the current site of Kissam Quadrangle. In May 2012, the six existing Kissam Quadrangle buildings will be demolished to make way for the two residential colleges and a shared facility providing gathering space, dining, a classroom, offices and meeting rooms.
Alumni Hall was the first project for renowned architect Henry C. Hibbs at Vanderbilt. He would later design a series of signature buildings on campus, including Neely Auditorium, Central Library and Buttrick, Calhoun and Garland halls.
Alumni Hall functioned as the university's original student union for nearly 50 years. It was dedicated to the 44 Vanderbilt alumni, former students and faculty who died in World War I. Their names are carved in the limestone above the Memorial Room's fireplace mantels. As the premier campus social center, generations of students held tea dances in the Memorial Room, played pool in the basement and conducted club meetings in the parlors. When Sarratt Student Center opened in 1974, Alumni Hall became home to a variety of administrative offices. The renovation project will be the first for the 86-year-old Vanderbilt landmark.