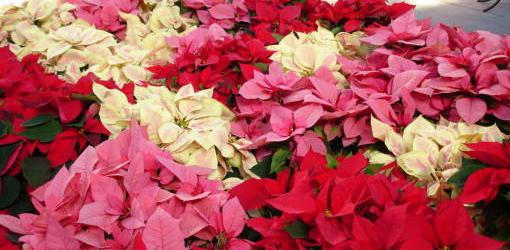 The Vanderbilt Woman's Club will again host the annual Holiday Poinsettia Sale to benefit the Ada Bell Stapleton/Blanche Henry Weaver Scholarship program.
This is a great opportunity to order beautiful holiday plants for decorating your office and home and also help Vanderbilt's undergraduate student scholars.
The club offers lush plants in a number of sizes and colors wrapped in festive holiday foil. New this year is a campus pickup spot to make it even more convenient for the Vanderbilt campus and medical center community to help support our student scholars.
Just go to  http://www.vanderbilt.edu/vwc/Poinsettia.pdf  to download the order form and ordering instructions. Orders must be received by Friday, Nov.18, 2011. Plan to drive over and pick up your beautiful blooms on Wednesday, Nov. 30, 3-5 p.m. at the Student Life Center, Room 3 Basement Garage.
For questions or additional information please email K2holroyd@comcast.net.
About the Vanderbilt Woman's Club
The Vanderbilt Woman's Club brings together the women of Vanderbilt University and provides an opportunity for intellectual, cultural and social activities within the community and the university. The club supports and assists the mission of the university and sponsors the Ada Bell Stapleton – Blanche Henry Weaver Scholarship through fundraising efforts. Founded in 1893 as the Vanderbilt Ladies Literary and Musical Club the name was changed to the Vanderbilt Woman's Club in 1896. Current membership includes almost 300 faculty, staff, faculty spouses, and other members of the greater Nashville community who come together in friendship, fellowship, and scholarship. During the academic year social and educational programming fills the calendar from September through May.  For more information on becoming a member please visit http://www.vanderbilt.edu/vwc.
Contact:
Terri Hershberger, terri.hershbergert@vanderbilt.edu