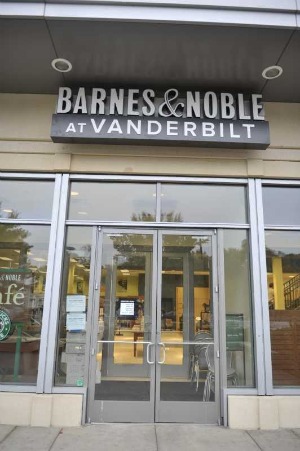 Vanderbilt University will open its new bookstore, Barnes & Noble at Vanderbilt University, Monday, Oct. 31. A grand opening event will be held Friday, Nov. 11. The bookstore is located at the corner of 25th and West End avenues.
For the grand opening event, doors will open at 8 a.m. with free coffee in complimentary Vanderbilt mugs available at the café while supplies last. Throughout the day, there will be musical performances, giveaways, grand-opening sales, gift basket raffles, and chances to win a NOOK™ and NOOK Color™.
"The new store will be a great place to showcase literary talent from Vanderbilt and beyond. Not only will it advance our academic mission through our campus community being able to get their textbooks and course materials there, but it will be a hub of activity where members of the Vanderbilt and Nashville communities can gather for author events, programming or to simply have a cup of coffee," said Vanderbilt Chancellor Nicholas S. Zeppos.
"We are delighted to have the opportunity to partner with such an esteemed school as Vanderbilt University," said Max J. Roberts, president of Barnes & Noble College. "Barnes & Noble College is fully committed to providing the Vanderbilt campus and surrounding community with the latest in educational content and technology and an unmatched retail experience."
Vanderbilt student a capella group the Melodores will perform at 8:30 a.m. at the store. Vanderbilt football coach James Franklin and basketball coach Melanie Balcomb are also scheduled to stop by the store to greet guests in the morning.
At 1 p.m., Zeppos and Roberts will participate in a ribbon-cutting ceremony to officially open the store.
Nashville author and pastry chef of the renowned Loveless Café, Alisa Huntsman, will make an appearance at 2 p.m. for a Q&A session, followed by a book signing of her latest cookbook, Desserts from the Famous Loveless Café. A Nashville institution, the café is renowned for its Southern charm and comfort food. Samples from Huntsman's acclaimed bakery will be served.
Children's book character, Curious George, will make an appearance in the children's section at 4 p.m. to read selections from the famous book series that bears his name.
At 5 p.m., authors and Vanderbilt professors Douglas A. Knight and Amy-Jill Levine will speak about and sign copies of their new book The Meaning of the Bible: What the Jewish Scriptures and Christian Old Testament Can Teach Us. Knight is the Drucilla Moore Buffington Professor of Hebrew Bible at Vanderbilt and Levine is University Professor of New Testament and Jewish Studies.
Nashville singer, songwriter, author and "Country Strong" film actress, Marshall Chapman, will make an appearance at 7 p.m. for a reading, book signing and musical performance. Chapman will sign copies of her latest book, They Came to Nashville, which tells the personal stories of musicians shaping the modern history of music in Nashville, including Kris Kristofferson, Emmylou Harris and Miranda Lambert.
Rounding out the grand opening festivities, is an appearance by Nashville sports history researcher and Vanderbilt athletics historian Bill Traughber on Saturday, Nov. 12, to sign copies of his book, Vanderbilt Football: Tales of Commodore Gridiron History, before Saturday's game against the University of Kentucky.
In addition to the items customers would expect to find at other Barnes & Noble retail outlets, the new Vanderbilt bookstore will offer textbooks, course materials, apparel and other university items. The new location will make possible to schedule author book signings and other kinds of programming, making the bookstore a central gathering place for both the campus and the surrounding Nashville community.
Visit the website for Barnes & Noble at Vanderbilt at www.vubookstore.com.