About Ideas in Action
Nov. 3, 2011, 9:56 AM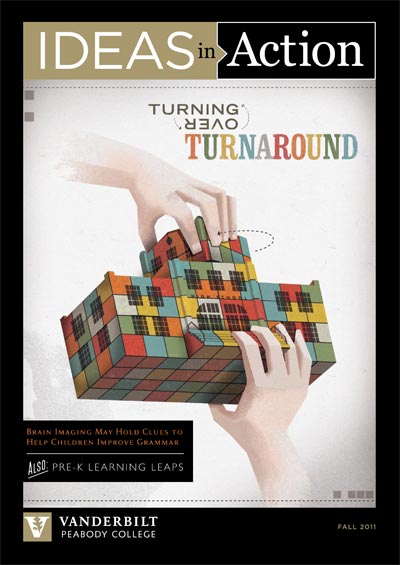 Dean
Camilla P. Benbow
camilla.benbow@vanderbilt.edu
Editor
Kurt Brobeck, Director of Communications

kurt.brobeck@vanderbilt.edu
Contributors
Camilla P. Benbow, Melanie Moran , Jim Patterson, Courtney Taylor, Jennifer Wetzel
Photography
Mary Donaldson, Daniel Dubois, Steve Green, Wolf Hoffmann, Lauren Owens, John Russell, Adam Waterson
Illustration
Andy Gregg, Edward Patton, Ligia Teodosiu
Design
Anderson Design Group
AndersonDesignGroup.com
Web Edition Design and Development
Jeff Kirkwood
For additional information about Vanderbilt University's 
Peabody College of education and human development, 
visit peabody.vanderbilt.edu.
Office of the Dean

Peabody College

Peabody #620

230 Appleton Place

Nashville, Tennessee 37203-5721
Design © 2011 Anderson Design Group

Copyright © 2011 Vanderbilt University

Additional Photography © iStock International Inc., Shutterstock Images LLC
Non-Discrimination Statement

In compliance with federal law, including the provisions of Title IX of the Education Amendments of 1972, sections 503 and 504 of the Rehabilitation Act of 1973, and the Americans with Disabilities Act of 1990, Vanderbilt University does not discriminate on the basis of race, sex, religion, color, national or ethic origin, age, disability, or military service in its administration of education policies, programs, or activities; its admissions policies; scholarship and loan programs; athletic or other University-administered programs; or employment. In addition, the University does not discriminate on the basis of sexual orientation, consistent with University nondiscrimination policy. Inquiries or complaints should be directed to the Opportunity Development Officer, Baker Building, Box 1809 Station B, Nashville, Tennessee 37235. Telephone (615) 322-4705; Fax (615) 421-6871.
"Vanderbilt" and the Vanderbilt logo are registered trademarks and service marks 
of Vanderbilt University.