Media Inquiries
Latest Stories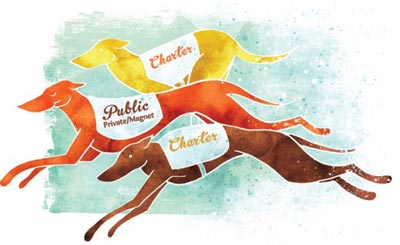 Many advocates for school choice argue that the competition created by giving parents multiple options of schools for their children will improve education in traditional public schools. The latest research brief, "How do Principals Respond to Charter School Competition?," released by the National Center on School Choice, examines the factors which contribute to principals' perceptions of competition from charter schools and the effect this perception has on promoting changes in leadership behavior. Responses include principals from public, private and magnet schools.
Among the researchers' key findings:
Principals perceived little competition from charter schools affecting either their financial resources or their recruitment of teachers and students.
When a school has more charter schools in close proximity, principals perceived a more negative effect of charter schools on their ability to attract and retain teachers and students.
Principals' perception of charter school competition was not related to the ways they spend their time.
The authors' finding that the closer a 
charter school is geographically to other schools, the more likely principals are to be influenced by competition, reinforces previous findings about the importance of this factor. The authors argue this raises issues for policymakers in considering charter school policies in rural areas, where schools are more likely to be farther apart.
In addition, the authors point to the need for more research to examine the broad mechanisms of charter school competition effects and additional measures of principal and teacher behavior in response to charter school competition.
The new brief is based on a paper by Marisa Cannata, associate director of the center, which is included in the book, School Choice and School Improvement, co-edited by Cannata, Ellen Goldring and Mark Berends and published in March 2011 by Harvard Education Press (see p. 16 for additional information).
The National Center for School Choice can be found online at www.vanderbilt.edu/schoolchoice.