Electric vehicle charging stations now available on campus
by
Liz Entman
Nov. 2, 2011, 9:00 AM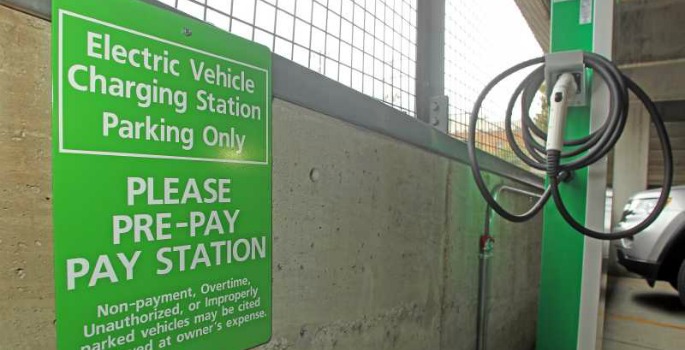 Nine electric vehicle (EV) charging stations are now open to the Vanderbilt community and general public.
The stations are a joint project of Vanderbilt University's Office of Traffic and Parking, Plant Operations, and Sustainability and Environmental Management, and Vanderbilt University Medical Center's Parking and Transportation Services.
Vanderbilt University
Five stations were donated by Schneider Electric and are installed in the following garages:
Wesley Place Garage: Spaces 52 and 53
25th Avenue Garage: Spaces 325 and 326
Terrace Place Garage: Space 63
Once construction of the solar charging stations at Lot 5B at the corner of 21st Avenue and Broadway are complete in early 2012, there will be a total of 15 electric vehicle charging stations on the Vanderbilt University campus.
Parking rates for these lots are $1 per half hour or a $10 daily maximum. Electricity is currently free.
Vanderbilt University Medical Center
The four VUMC chargers are part of the ECOtality project, a federally funded initiative to support electric vehicle production. More chargers are planned.
The VUMC chargers are intended to provide EV drivers who are concerned about the range limitations of their vehicles the opportunity to "top off" their charges at Vanderbilt. Charging will be limited to two hours per day in order to give access to as many users as possible.
The Blink Network charging stations are located on the following lots:
Lot 113 at the corner of Pierce Avenue and 21st (two chargers)
Dixie Place between the Central Garage and Oxford House (two chargers)
Parking and electricity are currently free for vehicles using the charging stations. The two-hour limit will be enforced.
To use the VUMC chargers, users must register through the Blink Network and request a RFID card to activate the charging station. The Blink Network also has maps to other EV charging stations located throughout the country that can be accessed by web or by smartphones with the Blink Network mobile app.
Request a RFID card from the Blink Network.
For more information on the university's alternative transportation initiatives, please visit the Office of Traffic and Parking's website.
For more information on the medical center's alternative transportation initiatives, please visit the Parking and Transportation Services website.
Visitor parking information »
Map of campus »
Directions to campus »