Media Inquiries
Latest Stories
The Yellow Ribbon Program is helping veterans and their family members pursue education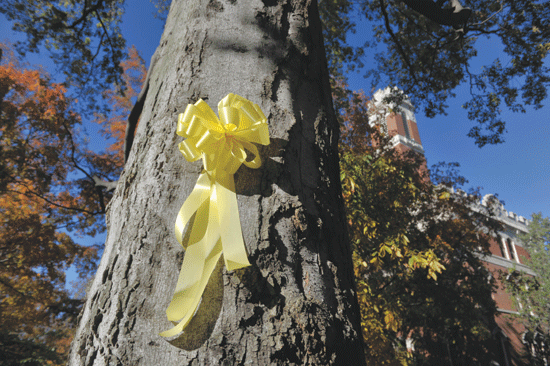 For Erin Gardiner, the decision to pursue a career in medicine was forged on the battlefield.
As the executive officer for an Army surgical team stationed in Seoul, South Korea, Gardiner worked with an elite unit designed to mobilize quickly to perform surgeries in the field. "That was where I got my first real experience being around doctors, and that's when I knew medicine was what I wanted to do with my life," she said.
Later, during a 15-month deployment to Baghdad, Iraq, Gardiner served as a battle captain for the 62nd Medical Brigade, which oversaw all medical operations in the Iraq Theater.
After more than five years of active duty and another year and a half in the Army Reserves, Gardiner left the military to pursue her medical dreams full time. Now a Vanderbilt School of Nursing student currently in her specialty year en route to a nurse practitioner degree, she is getting help paying for school from Vanderbilt's Yellow Ribbon Program.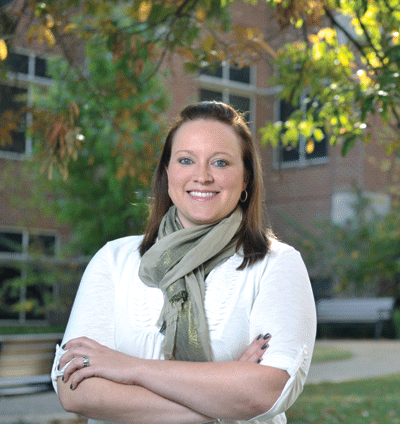 Since the G.I. Bill of Rights was signed into law during World War II, the federal government has provided veterans returning from war as well as peacetime service with financial assistance to pursue higher education. The latest version of the G.I. Bill, the Post-9/11 Veterans Educational Assistance Act, expands these benefits for those who have served since Sept. 11, 2001.
The main provisions of the act include full funding of four academic years of educational benefits up to the cost of the most expensive undergraduate public tuition in the state. The Yellow Ribbon program helps veterans bridge the gap between this amount and the actual cost of tuition and fees at their school by allowing participating institutions to share the cost with the federal government.
At Vanderbilt, the Yellow Ribbon Program provides undergraduate, graduate and professional students up to 12,000 additional tuition dollars per year – $6,000 from Vanderbilt and $6,000 in matching funds from the Department of Veterans Affairs. Eligible students at the Owen Graduate School of Management receive up to $20,000 per academic year – $10,000 from Vanderbilt and $10,000 in matching funds from the VA. The amount of Yellow Ribbon dollars received is based on a student's tuition and fees balance after federal benefits and some institutional aid are applied.
For Gardiner, her husband – a member of the 160th Special Operations Aviation Regiment headquartered at Fort Campbell, Ky. – and their 2-year-old daughter, the Yellow Ribbon funds mean they won't start the next chapter of their lives deeply in debt. "It definitely relieves a lot of the financial stress," she said, "and it affords us the opportunity to start growing our family."
Just as the World War II G.I. Bill changed the landscape and culture of American universities, so the Post-9/11 G.I. Bill is bringing a new and diverse group of students to campus.
"[rquote]Students who have served in the military bring a great depth of life experience to the classroom," said Vice Provost for Enrollment and Dean of Admissions Douglas L. Christiansen[/rquote]. "Their experience combines with the many, varied backgrounds and experiences represented at Vanderbilt. This rich diversity gives all students new opportunities to grow and develop both academically and personally, and it contributes to our overall mission of building a great community here at Vanderbilt."
Gardiner credits her time in the Army with teaching her grace under pressure as well as shaping her interest in acute care.
"I'm doing my specialty in acute care because it's similar to what I did when I was deployed," she said. "It can be very high-stress. You have to make decisions quickly, be confident in those decisions and be willing to carry them out. There's a lot of correlation between acute care and my job as a battle captain in Iraq."
After graduation next summer, Gardiner hopes to work with servicemen and women.
"I would really like to get a job at the VA or at the Army hospital at Fort Campbell. I'd like to get back to working with soldiers and veterans," she said. "It's a different population – they have a different mindset and different needs. I think I could bring a lot to their care having been on that side of it."
Veterans aren't the only ones benefiting from the Post-9/11 G.I. Bill and the Yellow Ribbon Program. Veterans and current servicemen and women can transfer their benefits to a spouse or their children.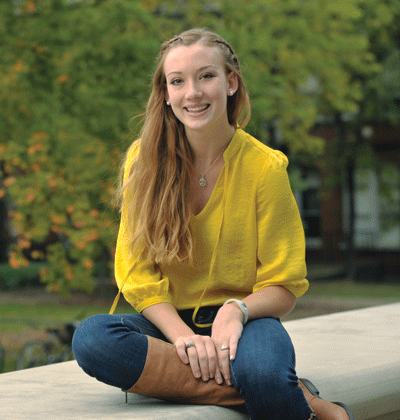 For Lauren Rocco, a Vanderbilt first-year student, this makes her father's deployments to the Middle East even more worthwhile.
Rocco grew up in a military family. Her father is a colonel and a hospital administrator in the Air Force, and her mother is a retired Air Force nurse. Born in Utah, the 18-year-old has also called Guam, Alabama, Virginia, Germany and Maryland home.
Some would find such a transient life difficult, but Rocco wouldn't have it any other way.
"Personally, I love being in a military family," she said. "People ask if it's hard to leave friends, but for me it's a fact of life. You just make new friends wherever you go.
"I've been fortunate to see so many different places, and I think I've had different opportunities than the average person my age," she said. "It's really shaped my personality and my values. That's what I wrote about in my college application essay."
If there is a downside to being part of a military family, it's the ever-present possibility of deployment. Rocco's father spent six months in Saudi Arabia and more recently six months in Afghanistan while she, her mother and younger brother lived in Germany. Rocco's father is currently stationed in Florida, while her mother and brother remain in Maryland where he attends high school.
"My dad's deployment was hard for our family, because he's very family-oriented. He would always be at all of our games. He'd be there for every activity we had," Rocco said. "It was probably hard on him, too, being far from home without us. But we knew he was doing something important, so we just took it a day at a time."
Rocco cites her father's dedication to the military as a source of inspiration.
"[rquote]My dad is so passionate about what he does," she said. "He's passionate about serving his country, and I think that's awesome. He's a great example of pursuing what you love."[/rquote]
Rocco's parents have encouraged her to do the same. She said she fell in love with Vanderbilt the moment she stepped on campus for a visit.
"My parents told me, 'Wherever you want to go for college, we're going to make it work.' And my dad always knew that we had his benefits in our back pocket to help pay for school," she said. "I would not be attending Vanderbilt without the Yellow Ribbon funds."
For Rocco and her family, the wars in the Middle East hit home. But that's not the case for most Americans. Military personnel and their families comprise less than 1 percent of the U.S. population. That means the tremendous burdens of serving the nation since 9/11 have been shouldered by the very few.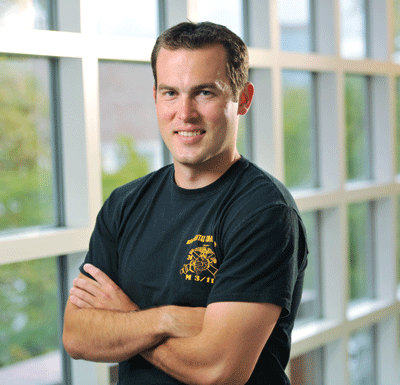 The Yellow Ribbon Program brings their unique perspective to campus, said Mike Bryant, a second-year MBA student at the Owen School.
"I think the program proves that Vanderbilt really cares about veterans and recognizes our service," he said. "Just how generously Vanderbilt shows its support was a major factor in my decision to come here." In fact, G.I. Jobs magazine has ranked Vanderbilt in the top 20 percent of all colleges, universities and trade schools nationwide as a Military Friendly School for 2012.
Bryant is a former Marine Corps officer who served as a platoon commander in the critical Al Anbar Province of Iraq, where he provided fire support and ran patrols in and out of Fallujah. "At any given time during that deployment, I was in charge of 25 to 35 Marines," he said.
Later, in Afghanistan, he was the executive officer of a headquarters battery, responsible for training fellow Marines who worked in supply, logistics, intelligence and other specialties. These assignments were natural for honing his leadership skills. While in Iraq, he began to consider business school.
"The military skills I have to build on, I think, are attractive to employers, and I've learned a lot about leadership since I've been at Owen," said Bryant, whose concentration is operations and strategy. "I think the two experiences are a great combination. I plan to take the best from both and make a career out of it.
"[rquote]I think the Yellow Ribbon Program shows just how far we've come with regard to our veterans – how the country is able to distinguish the soldier from the policy maker," he said.[/rquote] "If you don't like the war in Afghanistan, protest the politicians. But support the soldiers and veterans. It's nice to feel that support."
For Laurie Hynson, the Yellow Ribbon Program is providing the means to pursue a longtime calling.
Hynson's husband of 30 years is an Army dentist whose assignments have taken their family to Missouri, North Carolina and Alaska twice. The Hynsons currently are stationed at Fort Campbell for a second time.
As a military spouse, Hynson is accustomed to moving every few years, as well as taking on additional responsibilities at home when her husband is away. He just returned in May from a six-month deployment to Afghanistan.
About 15 years ago, Hynson, a nurse by training, felt called to the ministry. But with two children at home at the time and her husband's service obligations, she put her theological studies on hold.
She is now in her third of four years seeking a master of divinity degree at Vanderbilt Divinity School. Hynson said the timing finally feels right.
"I wanted to get the kids grown, and I needed to be at the right place at the right time," she said. "That's one thing that has made me realize this is really what I want to do – despite bumps in the road, my calling to the ministry has continued to be confirmed."
She said the Yellow Ribbon Program is helping to make it possible. "I applied for several scholarships and was coming up empty-handed, so the Yellow Ribbon funds have been such a blessing," said Hynson, who also receives scholarship support from a church in Alaska as well as her current church in Clarksville.
Hynson said her long experience with the military would no doubt inform her ministry. "At any church there are going to be folks who have been touched by the military, folks who are perhaps struggling with deployment issues. I certainly can empathize with that."
Following graduation, she hopes to be ordained an elder in the Methodist Church. Once commissioned in the Tennessee Conference, ordination is at least a three-year process, and her husband's next assignment will likely take them elsewhere – but Hynson remains faithful.
"I figure it's a God thing," she said. "God led me to do this and put this on my heart, so I'll just be faithful from my end of it. We'll see how things go. I know I'll be provided for."