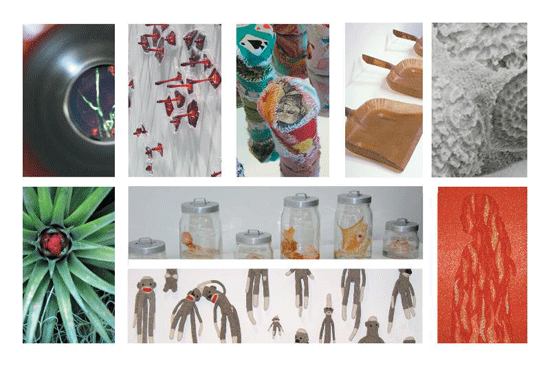 In August, the New York Times Magazine reported on the rapid rise of pregnancy reduction – not the accepted reduction of multiple fetuses, but on the rising number of women electing to reduce a twin pregnancy to that of a single fetus.
The travelling exhibition "Take Care: Biomedical Ethics in the 21st Century" at Vanderbilt's Sarratt Gallery Nov. 1-30 tackles such thorny issues. The exhibition addresses the unprecedented bioethical dilemmas brought about by the rapid advancement of medical technology and specifically considers civilization's unease with modern family planning, maternal and fetal care, childbirth and child rearing.
From 4:45 to 5:30 p.m. Thursday, Nov. 3, in Sarratt Gallery, "Take Care" artist and curator Adrienne Outlaw will moderate a panel discussion about the New York Times article "The Two Minus One Pregnancy" with distinguished speakers Frank H. Boehm, professor of obstetrics and gynecology and vice chairman of the Department of Obstetrics and Gynecology at Vanderbilt University Medical Center; Ken Wallston, the Joe B. Wyatt Distinguished University Professor of Psychology at the Vanderbilt School of Nursing; and Laura Carpenter, associate professor of sociology. A reception will follow the discussion.
"Take Care" features 13 works by nine internationally exhibiting artists.
Monica Bock focuses on the ordinary and extreme phenomena of maternal life. Afterbirth (Sac Fluid, Cord) consists of three cast-glycerin dustpans. Glass bottles embedded in the handles hold the amniotic sac, amniotic fluid and the umbilical cord.
Annette Gates makes porcelain sculpture rooted in the biological reality of microscopic single-cell organisms. Gates' work speaks to the genetic memory of mitochondrial DNA.
Adrienne Outlaw's Fecund Videos Series explores ethical issues developing with advancing biotechnologies. Videos of mysterious, fleshy forms juxtaposed with the latest advancements in biophysics seem to float inside mirrored, breast-like structures.
Kristina Arnold addresses issues of biology and the sociological construction of health and medicine. Her glass and plastic Drip installation investigates genetic inheritance and the emotional cost of love.
Sher Fick explores the social stigma of chemical and hormonal pharmaceutical therapy. In Coping Skills, a mirrored wooden altar holds 45 prescription bottles that Fick painstakingly wrapped with scraps of hand-stitched vintage fabric.
Jeanette May's Fertility in the Age of A.R.T. (Assisted Reproductive Technology) examines the current discourse in micro-managed procreation through enigmatic photographs that combine scientific citations with images such as square-shaped eggs and sonograms.
Lindsay Obermeyer's beaded and embroidered Shadows Series investigates ethical dilemmas associated with pharmaceutical use in the treatment of mental disorders. Red Hot and Blues each feature the silhouette of a young woman.
Libby Rowe confronts the fear of malformed offspring and the viability of life in Womb Worries, a collection of hand-made sock monkeys. Some of these red-lipped, grey bodied dolls have only one leg; others have far too many.
Sadie Ruben's Alien Fetus Series visualizes the social and political consequences of bioengineering through a series of fantastical, malformed and twisted bodies preserved in clear gel.
"Take Care" is a traveling exhibition. Its 2011-12 venues include Vanderbilt's Sarratt Art Gallery Nov. 1-30; Austin Peay State University's Trahern Gallery Jan. 17-Feb. 4, 2012; and the University of Wisconsin-Green Bay's Lawton Gallery March 1-29, 2012. Additional venues can be arranged. Contact the "Take Care" curator for more information.
A 40-page, full-color catalog with four critical essays accompanies the show. Made possible with grants from the Elizabeth Firestone Graham Foundation and The Tennessee Arts Commission, the catalog is available in print or as a free download.
Contact: Adrienne Outlaw
curator@n-cap.org