Barnes & Noble at Vanderbilt celebrates grand opening Nov. 11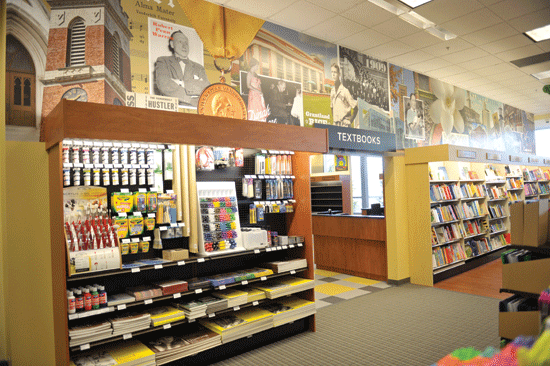 After months of planning and hard work, the bookstore has set up shop in a highly visible new location that will serve not only the Vanderbilt community, but its neighbors as well.
Formerly tucked away in Rand Hall, the bookstore has long served Vanderbilt students in search of essentials such as textbooks, school supplies, officially licensed Vanderbilt apparel, gift items and more.
Now in the former Borders space at 2525 West End Ave., which boasts 7,000 more square feet of space than the previous location, the new Barnes & Noble at Vanderbilt carries just about everything a Vanderbilt student might need, from textbooks to a Vanderbilt hoodie. But it doesn't stop there. The new bookstore also offers tens of thousands of best-selling trade books and a café fully stocked with Starbucks beverages and treats, a newly constructed patio for late-night studying, and even a children's book section that will have weekly programming.
The Vanderbilt bookstore's transformation is a coup for Nashville, which has seen the decline of bricks-and-mortar bookstores in recent years, including the closure of Davis Kidd Booksellers and the Borders chain.
"[rquote]A strong and thriving bookstore where a campus community can easily gather for literary and intellectual offerings is critically important to a university," said Chancellor Nicholas S. Zeppos[/rquote] in a recent announcement to the Vanderbilt community. "This new location and partnership give us an even greater opportunity to advance our academic mission for the campus and the larger Nashville community."
Situated in the busy 2525 shopping complex, which also includes P.F. Chang's and Bread & Company, the new Barnes & Noble at Vanderbilt is conveniently located to campus, near Memorial Gym and Greek Row. The store has access to an adjacent 200-space covered parking garage and 100 surface parking spaces, with four hours of parking validation daily (except on Vanderbilt athletic game days).
The new store is sure to be a destination for Commodore fans, offering the broadest selection of officially licensed Vanderbilt merchandise in the city.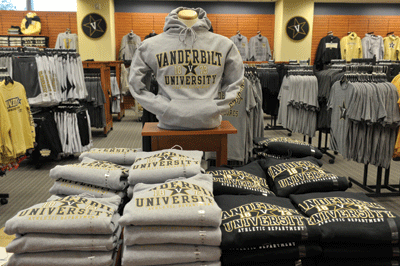 "The location of our new bookstore will definitely create some new excitement for Vanderbilt merchandise," said Maggie Huckaba, director of Vanderbilt trademark licensing. "Fans will now be able to drive or walk by and view an assortment of great Vanderbilt products available to them. I think game days are going to be huge."
Vanderbilt Student Government Vice President Maryclaire Manard is optimistic about the new store and is especially pleased the store will stay open later than the previous location.
"I can't begin to tell you how excited I am to see this happen," Manard said. "It's so expansive and amazing … and it's what our students deserve. We've been in need of this for a very long time."
VSG Chief of Staff David Head, a junior economics major, agrees that taking over the Borders space was the right move.
"This new store is equal to, if not superior to, peer institutions I have personally visited," he said. "The accessibility, the location and the offerings in this new space are unmatched."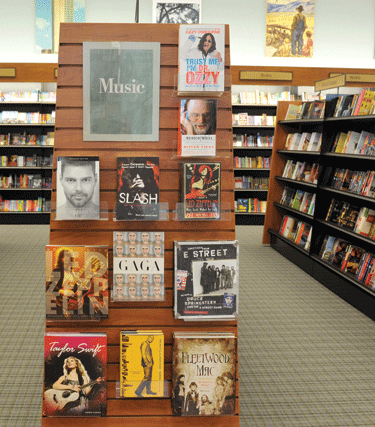 Adjacent space on the upper level that previously housed J. Michaels Clothiers now serves as a designated space for textbook sales. A special technology department for digital e-readers and accessories also is offered.
Barnes & Noble has other academic institutional partners through Barnes & Noble College, its wholly owned subsidiary which operates more than 630 campus bookstores for such institutions as Harvard, Yale and Georgia Tech. But the Vanderbilt partnership has been one of the fastest transformations in the company's history – just seven months from the first meeting between officials to opening day. Approximately 100 Barnes & Noble employees were brought in to unpack and shelve all of the merchandise during the three weeks prior to the store's soft opening Oct. 31.
"It's the fastest turnaround on a project we've ever seen," said Manager Cory St. John, a 12-year Barnes & Noble employee.
As soon as it was known that Borders was closing its West End location, Vanderbilt officials pursued the idea of taking over the space, according to Assistant Vice Chancellor for Business Services Frank Gladu. "It was such an intuitive move – it made a lot of sense," he said. "It took a lot of cooperation and support from a lot of entities on campus. But everyone has come together to create this, and Barnes & Noble has been supportive all the way."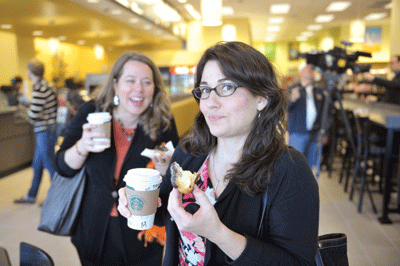 With its high ceilings, golden wall colors, natural light and customized décor that nods to campus history, the space has a warm, welcoming feel that is distinctly Vanderbilt. An escalator is slated to be installed in place of the center stairwell by the end of March 2012.
"It's one thing to put product on the shelf, but it's another thing entirely to put in order all of the logistics it took to make this a reality in such a short period of time," St. John said. "The people of Vanderbilt made this happen, and it's a space that is uniquely their own. It truly is something special. It's not something you see every day."
All employees of the Rand bookstore were given the option to work at the new location. Approximately 30 people will be on the sales floor or working the cash registers at any given time, St. John said.
"We don't believe in back offices and stock rooms," he said. "Our job is to be out on the floor, helping our customers."
Barnes & Noble at Vanderbilt is open for business, with the official grand opening for the general public set for Nov. 11. Students, faculty and staff took part in open house festivities Nov. 3.
Textbooks: Explore the modern possibilities
Barnes & Noble at Vanderbilt offers several ways for students to obtain textbooks, providing convenience, affordability and flexibility along the way. Textbooks will be available in new, used, digital, rental, loose-leaf or custom formats, either through the bookstore or through the bookstore's e-commerce website.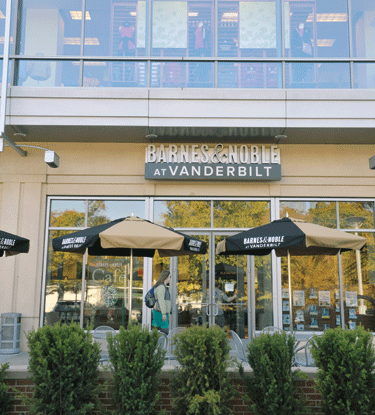 An increasingly popular choice among students is the textbook rental program, which can save more than 50 percent off the cost of buying a new textbook. Students can rent while in the store or online using the bookstore website, with the option of in-store pickup or delivery. The bookstore also will help students keep track of their rentals, reminding them of rental return deadlines via email.
Barnes & Noble at Vanderbilt will offer a rapidly expanding selection of e-textbooks for use with the NOOK e-book reader as well as Mac and PC computers, offering savings up to 60 percent off the cost of
a new printed book.
Students unfamiliar with some of these new technology options need look no further than Barnes & Noble at Vanderbilt's Technology Store, where shoppers can explore different models and brands of e-readers, such as the NOOK, as well as Blue Tooth, smart pens, computer software and other technology tools.
"By conducting research year-round, we know the latest technological products that students are looking for," said Joel Friedman, vice president of general merchandise, store design and construction for Barnes & Noble College. "In the new Barnes & Noble at Vanderbilt technology space, we'll be offering an exciting array of computer products and accessories that students, faculty and the surrounding community will want."
The new technology center will offer wi-fi and allow customers to access free in-store NOOK downloads.