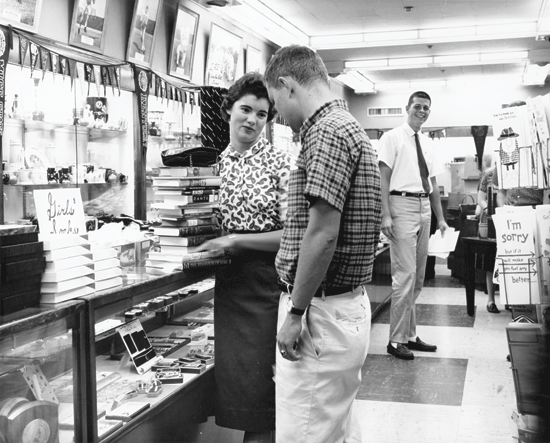 During Vanderbilt's early years, students were obliged to go off campus to purchase their textbooks and supplies from local merchants, many of whom advertised in The Comet, the university yearbook, and in The Hustler, the campus newspaper. By the early 1890s, the university had sanctioned a bookstore on campus, run by a faculty-appointed student, in an effort to beat the off-campus retailers' rates. In 1895, the university itself attempted to operate the bookstore – located on the first floor of the Main Building (now Kirkland Hall) – "strictly as a department of the university," but due to mismanagement, the venture failed and the bookstore was placed back in the hands of students.
In 1905, a fire gutted the main building and likely at that time relocated the bookstore to the basement of old Kissam Hall, a men's dormitory that stood from 1900 to 1958 on what is now Alumni Lawn. In April 1921, the bookstore – owned and operated by students since 1896 – was officially purchased by Vanderbilt and came again under university management. In 1928 the bookstore was moved to the newly constructed classroom building Calhoun Hall, where it remained at the north end of the ground level for nearly 20 years.
With the influx of young men to campus following World War II, classroom space was at a premium. In 1947, the bookstore and post office were relocated to temporary barracks constructed near the present location of Rand Hall. When Rand opened in fall 1953, the Vanderbilt Bookstore, along with the post office and cafeteria, found new and long-term homes. In late 1999, the Follett Corporation partnered with Vanderbilt to manage its bookstore.
Earlier this year, Vanderbilt entered a partnership with Barnes & Noble to operate the Vanderbilt Bookstore at a location adjacent to the main campus. Barnes & Noble at Vanderbilt opened at 2525 West End Ave. on Oct. 31, 2011.
Research by Lyle Lankford, university historian