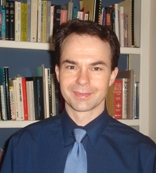 The historic relationship between patriotism and scripture – formed during wars and refined by preachers and presidents – is the subject of a Nov. 3 community breakfast at Vanderbilt University Divinity School.
James P. Byrd, assistant professor of American religious history, will address "The Bible and Patriotism in Revolutionary America" from 7:30 to 8:30 a.m. in Vanderbilt's Divinity Reading Room.
Byrd's areas of research include theology and biblical interpretation in American history, religion and war, and the history of Baptists in America. His current book project, The Bible and Wartime Patriotism in Revolutionary America, will be published by Oxford University Press.
"The patriotic scripture that was shaped through the American Revolution centered on a particular view of the Bible as a book of war," Byrd said. "[rquote]For American patriots, the Bible was a martial narrative – a dramatic, often graphically violent, succession of war stories featuring heroic exemplars of spiritual faith and military prowess.[/rquote]"
Byrd noted that in the patriotic scripture, wartime violence was spiritually meaningful if fought under God's inspiration. "God's soldiers were the best soldiers, not only spiritually, but militarily as well," Byrd said. "The ramifications of this message would continue through American history as the United States came to define itself and its destiny largely through the justice and sacredness of its wars."
During the Civil War, Abraham Lincoln observed that both the North and the South "read the same Bible and pray to the same God and each invokes His aid against the other."
Byrd will talk about how wars take on heightened significance, even religious significance, when battle lines are drawn through the lines of scripture.
The $10 breakfast in the Divinity Reading Room is open to the public but reservations are required. Please call 615-936-8453 or email shatika.brown@vanderbilt.edu.