Benefits of physical activity celebrated at Senior Leader Walk
by
Kara Furlong
Oct. 26, 2011, 4:54 PM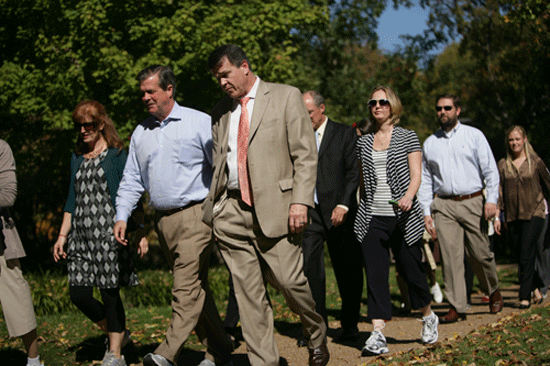 Participating faculty and staff had great fall weather for the Senior Leader Walk Tuesday, Oct. 25.
From five starting points, employees walked across the Vanderbilt campus to Health Plus. The walk was led in part by Vice Chancellor for Administration Jerry Fife, Executive Chief Nursing Officer Marilyn Dubree and Nashville Mayor Karl Dean.
On the Health Plus patio, participants enjoyed healthy sandwiches from Papa Johns and refreshing smoothies from Smoothie King. They also had the opportunity to get a free flu shot, participate in Know Your Numbers activities and get help completing Go for the Gold.
Health Plus Medical Director Lori Rolando, Fife, Dean and Dubree spoke at the event.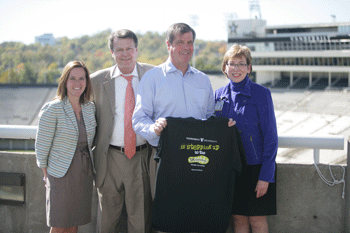 "We are here today to celebrate the benefits of physical activity and the beautiful Vanderbilt campus, which is ideal for walking," Fife said. "Being active makes us feel better, it increases our ability to handle stress, and it helps us to be more productive in our work lives and outside of work."
"Supporting opportunities to be physically active on the job makes sense," Fife continued. "More opportunities for physical activity at work lead to healthier employees, stronger job performance and a boost to the business bottom line by way of decreased health care costs and improved productivity."
Some 4,000 Nashvillians walked more than 100,000 miles this spring and summer as part of the Mayor's Walk 100 Miles health initiative. Now Dean is stepping up the challenge by asking Nashville citizens to join him for a 5K walk or run on Sunday, Nov. 13. Everyone who participates and logs a minimum of 10 activities of any kind will receive a Vanderbilt-created T-shirt, which Fife presented to the mayor on Tuesday.
Employees can still register for the Vanderbilt team and join free training sessions being offered in preparation of the 5K event at locations around Davidson County. Vanderbilt is currently in first place for teams of its size.