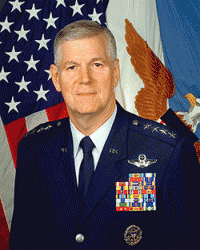 Vanderbilt's Naval ROTC will welcome former Chairman of the Joint Chiefs of Staff Gen. Richard Myers as keynote speaker for Vanderbilt University's 2011 National Security Symposium. The event is scheduled for 2:30 p.m. Friday, Oct. 21, in Langford Auditorium and is open to the public.
This year's symposium will focus on past, present and future U.S. policy in the Middle East with an eye toward future challenges and opportunities in the region. Myers' appearance marks the first such visit to Vanderbilt by a former chairman of the Joint Chiefs of Staff.
During his term as chairman, Myers served as principal military adviser to the president of the United States, the secretary of defense and the National Security Council. He led the U.S. Armed Forces during a time of great crisis, assuming his position as the nation's 15th chairman only weeks after Sept. 11, 2001.
In this role, he was instrumental in guiding the U.S. strategy for the War on Terror, in heading U.S.-led international efforts to topple the Taliban and deny Al Qaeda safe haven in Afghanistan, and in defeating the Saddam Hussein regime in Iraq. Myers also oversaw U.S. military relief efforts for the tsunami that struck the Pacific theater in December 2004 as well as hurricanes Katrina and Rita in 2005.
Myers will be joined by his wife, Mary Jo Myers. Over the past 10 years, she has played an instrumental role in efforts to improve the quality of life of women in Afghanistan. Additionally, she serves on the board of trustees for Fisher House and remains committed to providing the best possible care for our nation's wounded soldiers and their families.
Admission to the event is free, but seating is limited. RSVP to karen.olayinka@vanderbilt.edu or (615) 322-2671.
Contact: Karen Hardison Olayinka, (615) 322-2671
karen.olayinka@vanderbilt.edu